For the past 4 years I've used Kindle exclusively for reading books.
It's not that other e-ink devices aren't any good, but they miss some key features that set Kindle above all other devices.
So, here my list of Kindle features that you might not be aware of that makes reading pure joy.
Later, I'll give you a brief summary of all of the features available on Kindle and compare this to other popular ereader's.
1. Kindle X-Ray
Kindle X-Ray is a hidden gem.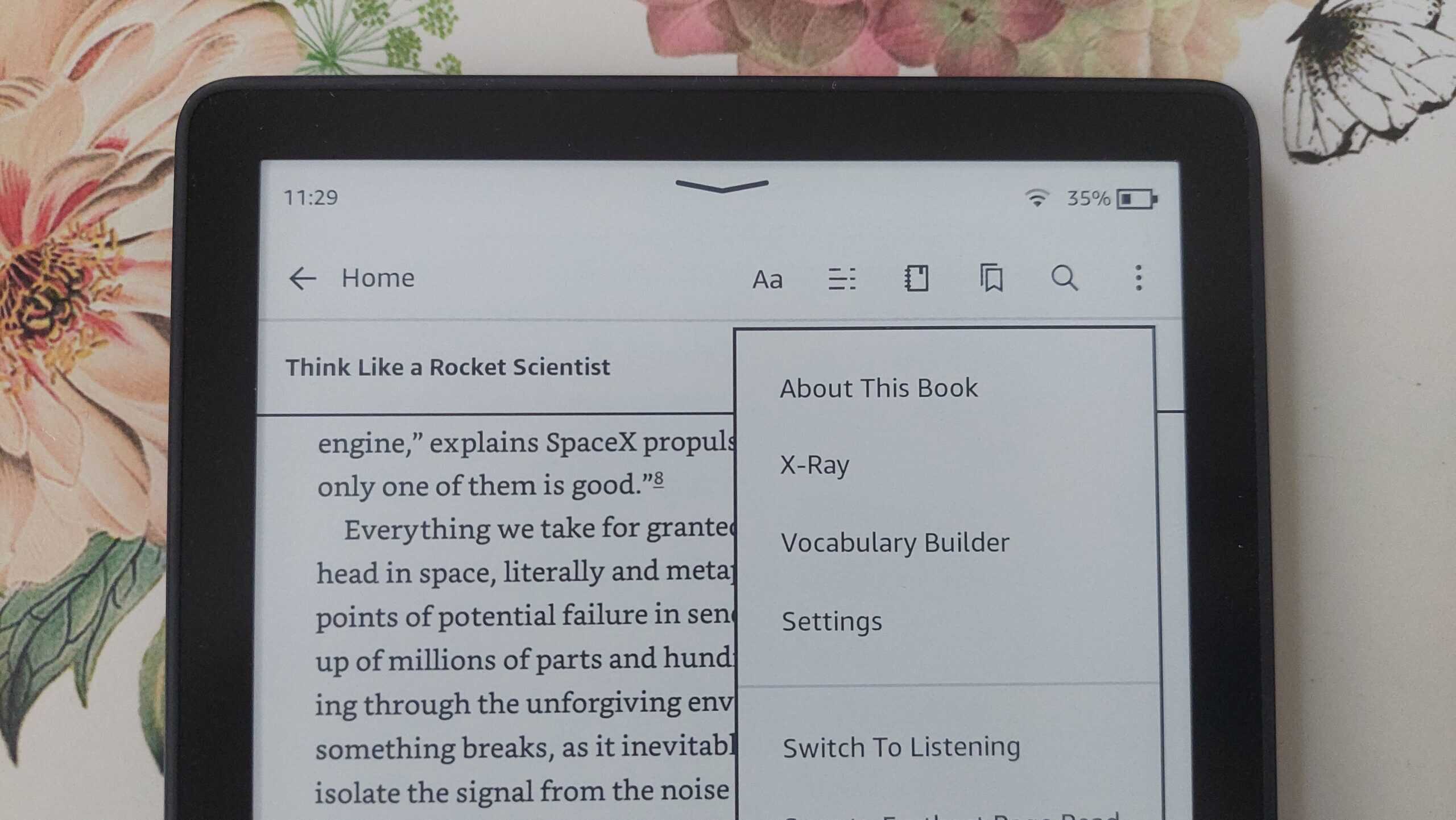 It's like having the author sat right next to you, providing instant access to information about the words, characters, and events within a book.
This wonderful tool that allows readers to better understand the context of a story without disrupting their reading flow.
By tapping a word or selecting a section, X-Ray provides relevant explanations and insights directly on the screen.
2. Word Wise & Vocabulary
Word Wise is a useful feature aimed at readers with a less familiar vocabulary.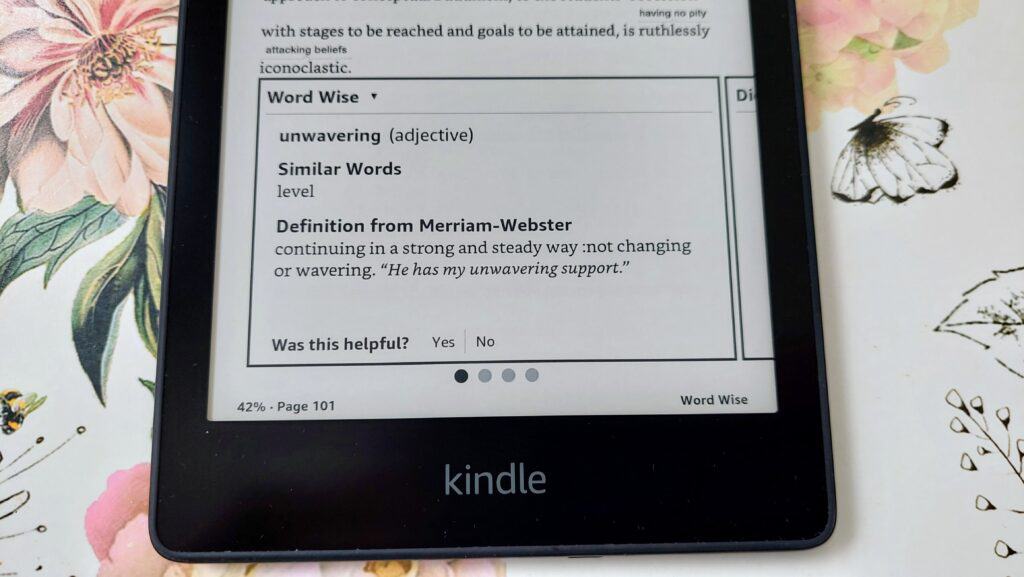 It provides readers with a brief definition of challenging words, which enables a more fluid reading experience and prevents readers from pausing to look up unfamiliar terms.
If you find there are far too many on the screen, you can adjust the frequency of the underlined hints to your needs.

Kindle Vocabulary Builder encourages readers to actively expand their vocabulary by aggregating words they have looked up while reading.
Users can then review and quiz themselves on these words after each chapter, reinforcing their understanding and retention of each new word and its meaning.
3. Highlight and Notes
Kindle makes it so easy to highlight passages in a book and take notes for reference.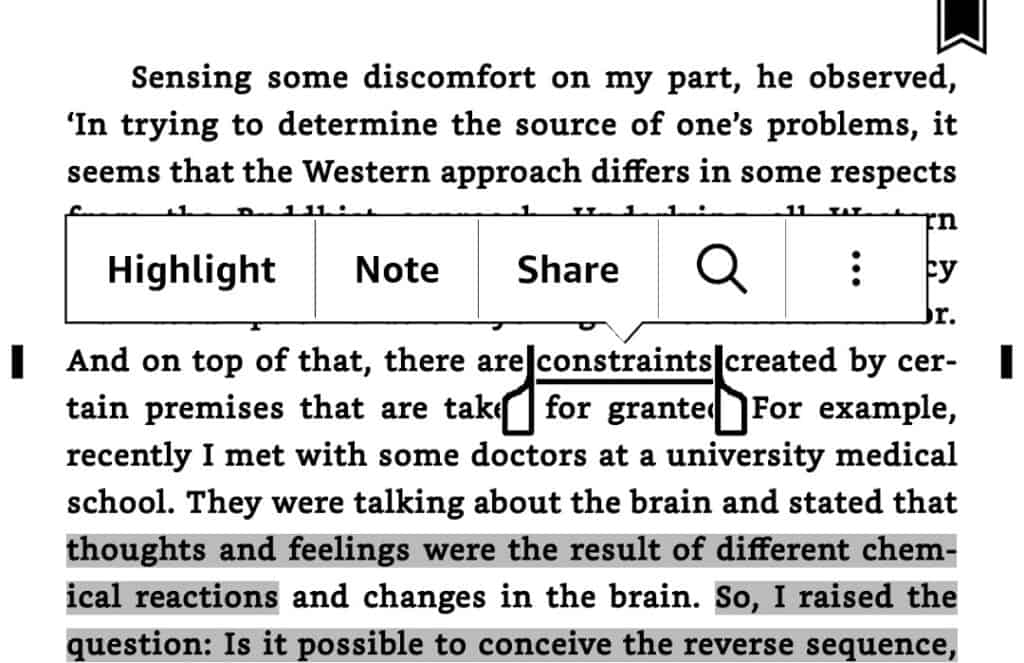 Notes are beautifully hidden away so not to impose itself on the page and there is no limit to how much text you can write.
All highlights and notes are conveniently stored in the user's library, making it simple to revisit and reference and even share with friends.
4. Whispersync and Audible
I know it's a bit of a cop-out, but when you have a list of things to do and you only have two chapters left, switching to listening has never been easier.
Whispersync is Amazon's "read out load" feature that allows you to effortlessly switch to listening by tapping on the headphone icon in the menu.
FYI💡

I will caveat that this is not available for every book, and you will need to purchase this separately for each book in your library.

If you've already purchased a book, you can easily add Whispersync by going to your Amazon account and adding this feature.
5. Dark Mode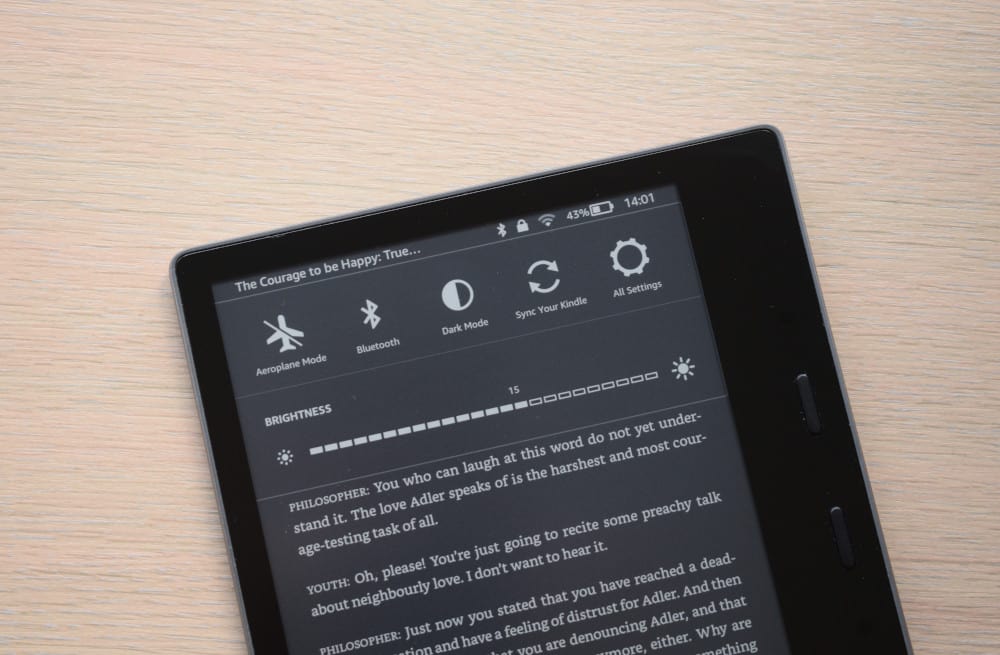 A useful feature for nighttime reading is the Dark Mode feature.
When enabled, the Kindle's background and text colors are inverted, displaying white text on a black background.
Dark Mode reduces the amount of light emitted by the screen, which can prevent eye strain and personally I feel it makes it more comfortable to read in low-light conditions.
6. Auto Brightness and Warmlight
Although most ereaders now have this, adjustable front light and warm light feature is now essential for evening reading.
This allows users to read comfortably in any lighting conditions, from daylight to dimly lit rooms.
The warm light feature reduces the amount of blue light coming from the device, which research has shown has an effect on your melatonin levels which is a chemical in the body that helps with sleep.
7. Waterproofing (IPX8)
Many of the latest Kindle models, such as the Kindle Paperwhite and Scribe, come with an IPX8 waterproof rating.
This means that they can withstand immersion in water for up to 60 minutes at a depth of 2 meters. Giving you peace of mind when taking your Kindle to the beach, poolside, or even in the bath.

With this level of protection, you don't have to worry about accidental splashes or drops of water damaging your device.
Bonus - Reading Features
Library and Collections
The Kindle e-reader offers a comprehensive digital library, allowing users to store and manage thousands of eBooks, pdf's and documents. Users can easily organize their content into customized collections, grouping titles or topics together for seamless browsing.
Any book that is purchased or borrowed, is automatically added to the library, accessible from any Kindle device or app, and even via Kindle cloud.
Font and Layout Options
Kindle e-readers offer a wide variety of font and layout options, enabling users to customize their reading experience to their preferences.
From adjusting the font size and type to modifying the spacing between lines. Users also have the option to import any custom fonts giving them an even greater choice to make their reading experience to their liking.
Kindle Hardware & Display Features
6-10" 300dpi Eink Display
Adjustable Brightness and Warm Light
Up to 32GB Internal storage
3000 mAH Battery – up to 5 weeks with moderate use
IP6X Waterproof rating
WiFi and Bluetooth
USB C Fast Charging
Screen Quality
The Kindle's screen has seen significant improvements over the years.
The latest Amazon Kindle (2022) offers a crisp and clear 6" e-ink display that simulates the appearance of printed text on paper, making it easy to read even under the brightest conditions.
Physical Design
The Kindle's compact design makes it quite travel-friendly, as it easily fits into a bag or purse, and in some cases even a coat pocket.
Its lightweight and slim bezel contributes to its portability, as well as providing a comfortable reading experience especially during extended periods.
Kindle Technical Specifications
Battery Life
With some of the latest models boasting 3000mAh batteries and low power processing, the battery life has greatly improved. The latest Kindle Paperwhite can now last up to 10 weeks with modest daily use.
All new Kindle devices now come with USB-C charging, meaning you can charge twice as fast than on a regular micro USB device.
Storage Capacity
Storage capacity varies between Kindle models, and can offer up to 64GB storage capacity, which should be more than enough for most users, as it can store tens of thousands of books.
Screen Pixel Density
When it comes to screen quality, the basic Kindle 2019 features a display resolution of 800 x 600 px with a pixel density of 167 ppi and 16 grayscale levels. This provides satisfactory contrast and sharpness for text-based reading materials.
Meanwhile, the Kindle Paperwhite boasts a higher resolution of 1024 x 768 pixels, offering an even sharper pixel density of 300dpi. This is particularly useful for readers that prefer larger text to read as it will be less pixelated and sharper even when zoomed in.
Different Models of Kindle
Kindle Paperwhite
The Kindle Paperwhite is a popular choice among e-reader enthusiasts as it offers the best balance between features and price.
It boasts a 6", 300ppi e-ink display, providing crisp and clear text even when zoomed in. The Paperwhite is also equipped with a built-in adjustable light, warm light feature and dark mode, allowing for comfortable reading in any environment, including total darkness.
The device offers multiple storage options, including 16GB and 32GB versions, catering to different reading habits. Additionally, it is water-resistant, with an IPX8 rating, making it a perfect companion for poolside or beach reading.
Basic Kindle
The basic Kindle model is ideal for budget-conscious individuals who seek a simple, no-frills e-reader.
It features a 6-inch, 167ppi display, which, while not as high-resolution as the Paperwhite or Oasis, still provides a comfortable reading experience.
The basic lacks a built-in light and is not water-resistant, but it offers 8GB of storage and is a great starter for anyone who wants to dip their toe into ereaders.
Kindle Oasis
Nowadays, the Kindle Oasis is more of a legacy product, with the last version released in 2019.
However, it does come with several features that you cannot get on any other model.
The Kindle Oasis includes a larger 7-inch, 300ppi display, a sleek aluminium, ergonomic design with physical page-turn buttons, and an adjustable warm light, which at the time was ahead of any other device.
The Oasis also offers 8GB and 32GB storage options and shares the water-resistant IPX8 rating with the Paperwhite. While it comes with a higher price tag, the Kindle Oasis caters to those who desire top-notch features and a more luxurious experience.
Kindle Scribe
Kindle Scribe Is the latest device to join the Kindle family.
Coming in with an impressive 10.2" 300ppi e-ink display this device is perfect for users that want a digital A4 paper.
Unlike other models, the Scribe comes with an interactive digital pen, allowing you to make freehand notes and drawings directly on the screen, just as you would do with a sheet of paper.
This device is more tailored towards professionals and students that require note taking and a larger screen size for reading A4 documents.