I'm going to show you just how easy it is to set up a Kindle device, even if you've never used a Kindle before!
In this essential step-by-step guide you will learn:
KEY TAKEAWAYS

• How to charge and get your Kindle connected to the internet.
• Registering your Kindle, navigating the device, and downloading your first book.
• Personalize your reading experience.
A Huge Time Saver
By the way, If you haven't yet purchased a Kindle, you can save a lot of setup time by selecting the "Link device to your Amazon account".
This is just below the "add to Basket" button.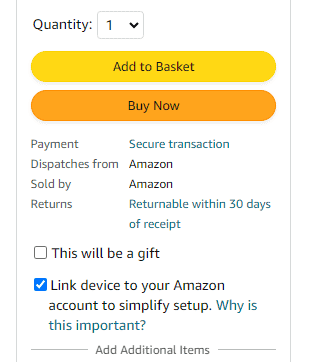 Selecting this will allow Amazon to automatically configure your Kindle device for you. This means that your home WiFi and amazon account details will be pre-loaded before you receive the device.
Saving you a lot of setup time.
In fact, If you have done this already you can skip most of this article and jump to Personalizing Kindle.
Unboxing Your Kindle
What's Included in the Box?
Not much nowadays!
A Kindle and a USB cable, also a small set of instructions on how to set up, but hopefully we'll have this covered for you.
The Initial Setup: Getting Your Kindle Ready
Charging Your Kindle
While a lot of user manuals suggest that you should fully charge the battery before use, this is a myth and battery technology has evolved and no longer suffers from memory effects.
"Kindle's will come pre-charged to around 50-60% which is fine and should last a couple of weeks."

Of course, there's no harm in charging you device while you set it up, which is generally what I do.
Power On and Configuration
First, we want to power up our device. The power button is located at the bottom of the device, just next to the USB C socket.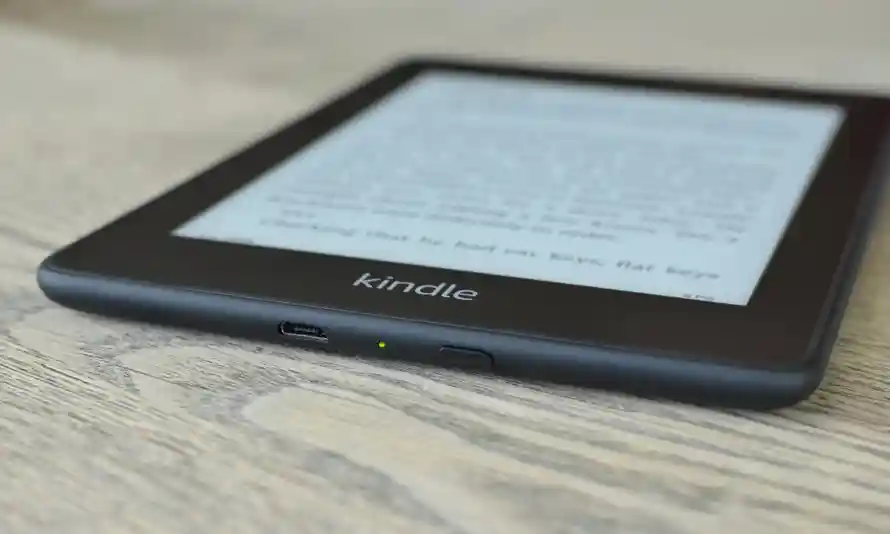 Press and hold the power button for a couple of seconds to start the device.
During power-up, you should see the Kindle logo.
Choose your preferred language and select Next.
Select your region followed by Next.
You should now see the Kindle logo again along with a progress bar. Kindle is now starting.
Connecting to Wi-Fi
You are now given two options:
Set up on this Device or…
Set up with your Phone.
If you already have the Kindle App on your phone, this is a much simpler process and only requires bluetooth connection.
However, we'll go through the first option; "setup on this Kindle" as most users will not have the Kindle App on their phone.
To Connect to WiFi, select your WiFi Network ID. You can find this on the label at the back/bottom of your router.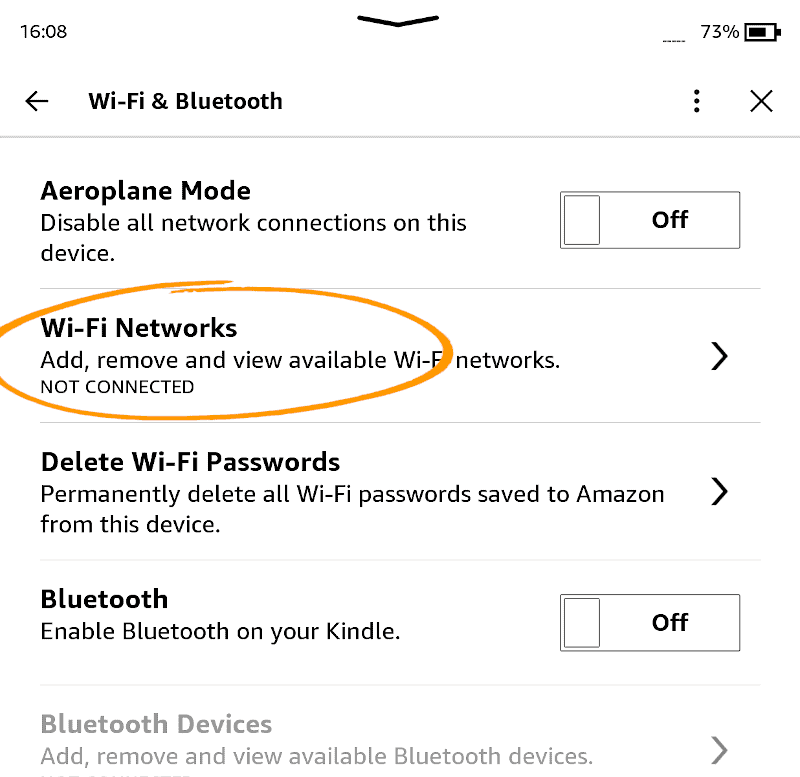 Next, enter the WiFi Password. This is also on the label which is sometimes on a separate pull-out card such as this.
You should now see the WiFi Icon along with the signal strength of the device.
If, you can't connect to WiFi ensure you are close to your router and then follow this guide to

troubleshoot your WiFi.
Sign-in & Register Kindle
I'll assume you already have an Amazon account, given that you are currently setting up a Kindle. However, if you don't happen to have an account you can set one up simply via the amazon website. The only thing you will need is a personal email address to validate the account.
Linking Your Amazon Account with Kindle
Next, we need to sign into your Amazon account.
Enter the email address linked to your Amazon account, followed by the password.
Once done, select Next to continue.
Info 💡

If you have Two-Step Verification setup you need to enter the code that you should have received on your mobile phone. If you do not receive the 6-digit code, request to resend the code or check that your mobile phone number is correct on your Amazon account.

Kindle should now be connected to your Amazon account. Tap Next to continue.
Finally, before you access your library you are given the option to make this device child friendly.
If you enable this, you will not have access to any adult content (you know that means!). Personally, I find it easier for kids to have their own Kindle, as it avoids any nasty surprises, or many questions being asked!
Kindle Unlimited Offer
At this point before you access your Library content. Amazon generally give you the option of 3 months free access to Kindle Unlimited.
This is a nice way to try Kindle Unlimited to see if it's worthwhile for you.
Just bear in mind that if you are intending on cancelling the subscription, that you do so before the end of the free trial period, otherwise you will be charged for the following month.
You can check you first chargeable date by going to Your Memberships and Subscriptions.
Personalizing Your Kindle Experience
Where Kindle really comes into its own is that you can customize your reading experience. From changing the font type, weight and size, all the way to margin and spacing, which can be particularly important for someone with reading difficulties.
Adjusting Font Size and Layout
First, we'll change the font type.
Open a book you're reading and tap near the top of the page to open the menu.
Select the Aa icon.
Tap on Font Family. By default, the font should Bookerly.
Select any one font from the nine available.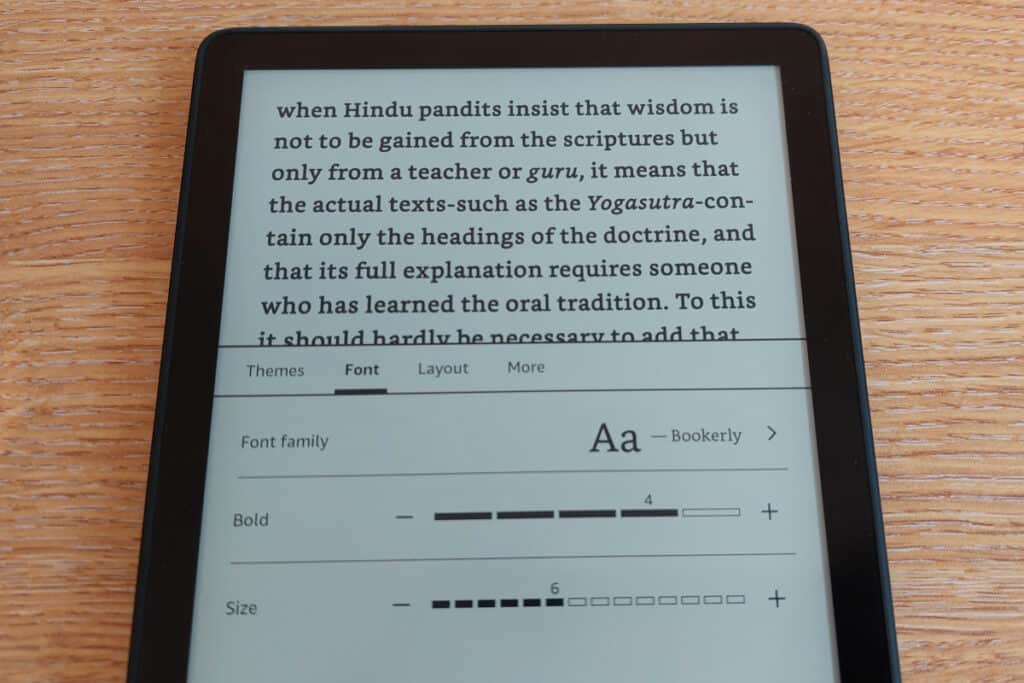 To personalize your reading even further, you can also import a custom font, just be sure to use OTF and TTF format fonts.
Going back to the Font Family, we next adjust the bold (thickness) of the text.
You should see a slider with a + and – signs on either side. Increase or decrease the text boldness to a thickness that suits you.
Just below that we have Size, which as you would imagine, increases/decreases the size of the text. Simply use the slider or +/- buttons on either side to adjust the text to a size that's comfortable to you.
Advanced Options
In the Layout tab you can customize even further with a number of features including:
Margin – reduce the amount of white space on edge of the page.
Spacing – Increase/decrease the spacing between lines on a page.
Alignment – Make all of the text on the screen align to the margin edge.
Orientation – Rotate your text from portrait to landscape. This is especially useful for pdf documents with drawings and diagrams in the landscape position.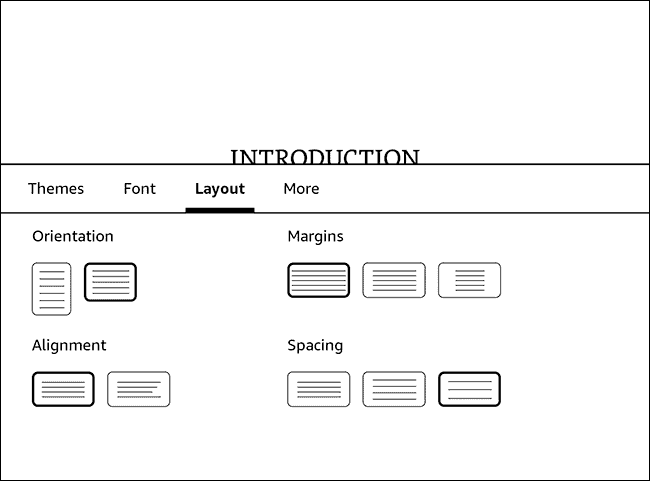 Finally, the Themes tab allows to you save your customized settings allowing you to switch from the standard settings available (standard, compact and large) and back to your own. This is useful when you wish to read a report or professional document which may require clearer text.
Screen Brightness and Warm Light Filter
One of the advantages of using a digital reader is the ability to read in the dark.
"While I always suggest that it's better to read under some lighting, there are times where this is unavoidable!"

To adjust the brightness and color warmth (or hue) of the device, use the following:
Tap near the top of the screen to bring the top menu.
Now, tap on the downward arrow at the top center of the screen. This will bring down a number of options.
You should now see a slider bar for both brightness and warmth. Sliding either of these will adjust accordingly with the right side being the brightest and with the least white light visible.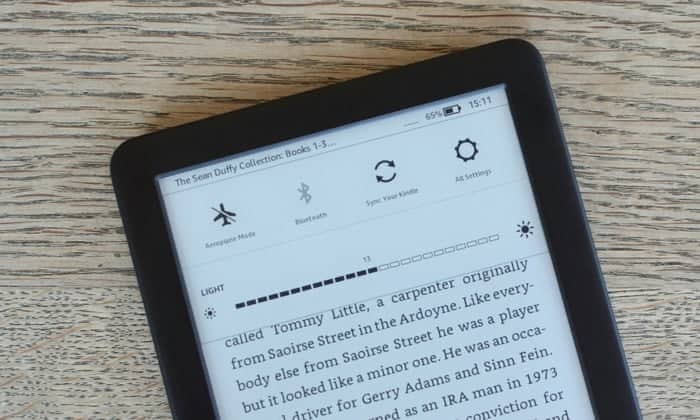 To come out of this, simply tap the arrow again which is now pointing upwards.
Configuring Other Accessibility Features
As well as the customization features, we've previously discussed, Kindle has a couple more enhanced features.
Dark Mode
This is especially useful when reading in the dark as it reduces the amount of white light your eyes take in, making it gentler on the eye and helps reduce eye strain under low light conditions.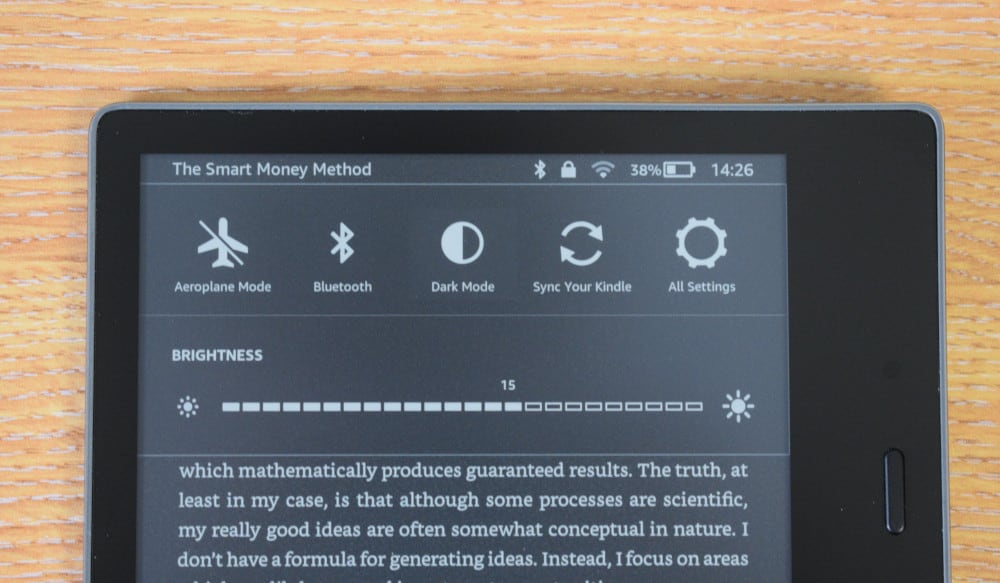 To enable this feature, head over to the drop-down menu and select Settings > Accessibility.
Tap on the Invert Black and White button and you should instantly see that the screen black/white has inverted.
Dyslexia Font
While searching through the list of font types available, you may have noticed one called Open Dyslexia. As the name suggests the font is designed to help reduce the issues of reading for those with dyslexia.
Common Kindle Setup Problems
It's very rare to come across any issues when setting up a Kindle. However, some of the most common issues include:
Connecting to WiFi
Kindle Won't Charge
If you are experiencing any of these problems, check out each of the guides or our Kindle troubleshooting guide which goes into detail and includes images to help you.
Next Steps
Congratulations.
If you've got this far you've successfully set up your Kindle device and are ready to read.
But before you go, you might want to check out some of these tutorials that will give you a understanding of the Kindle user interface and how to organize your library like a librarian:
Navigating the Kindle Interface
Using the Kindle Store to Buy eBooks
Organizing Your eBook Library