X-Ray is an interactive glossary that gives you insights and information about characters, places and terms in the book.
I like to think of it like having author sat right next me giving crucial insight and a better understanding of people or events without leaving the page.
What does Kindle X-Ray show?
Here's what to expect from Kindle x-ray: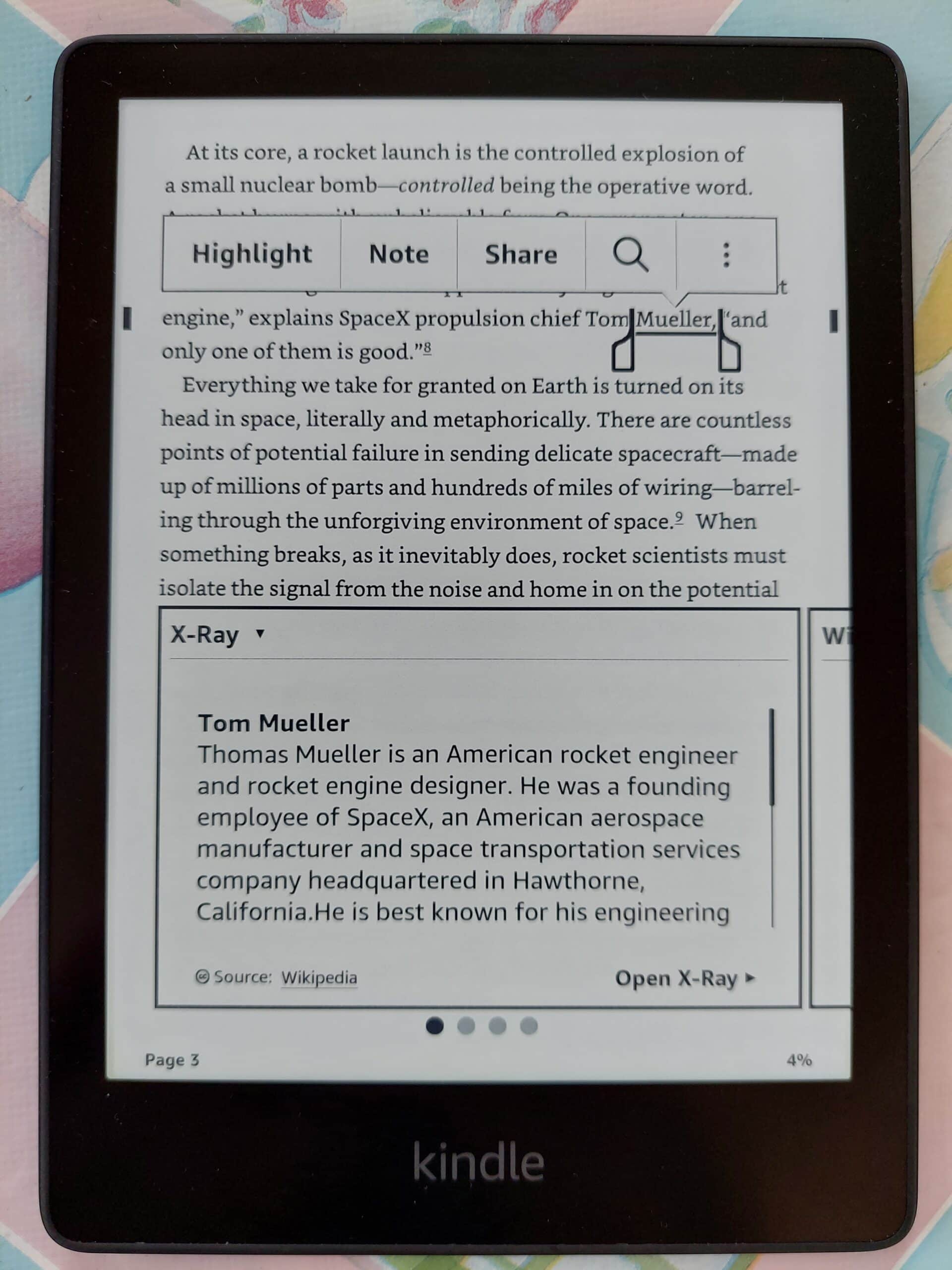 Characters: For novels or any books with characters, X-Ray provides a brief overview of each of the characters. This is particularly useful for books with a complicated and large cast of characters such as Lord of the Rings, where it's difficult to keep track of everyone.
Terms: X-Ray identifies certain terms and concepts in a book and provides a brief explanation and definition. This is helpful for books that are more nuanced.
Images: Occasionally, X-ray will also display images to provide a visual perspective in greater detail.
Timeline: Some books also have a timeline to help readers have a better understanding of events and when they happen.
Notable Clips: At times, X-Ray may provide details of content related to the book that the reader may not be aware of, such as historical events like the Spanish Civil war or the Suffragettes movement.
How do I turn on X-Ray on Kindle?
Press and hold on a word or phrase and X-Ray will appear with a description of the highlighted word.
Not every word in the book will contain x-ray content so you may end up with Wikipedia or dictionary appearing instead.
To view all X-Ray content available, follow these simple steps:
Tap the top of any page and select the ⋮ (3 dots).
Select X-Ray.
The X-Ray Menu should now display with 4 tabs which include Notable Clips, People, Terms and Images.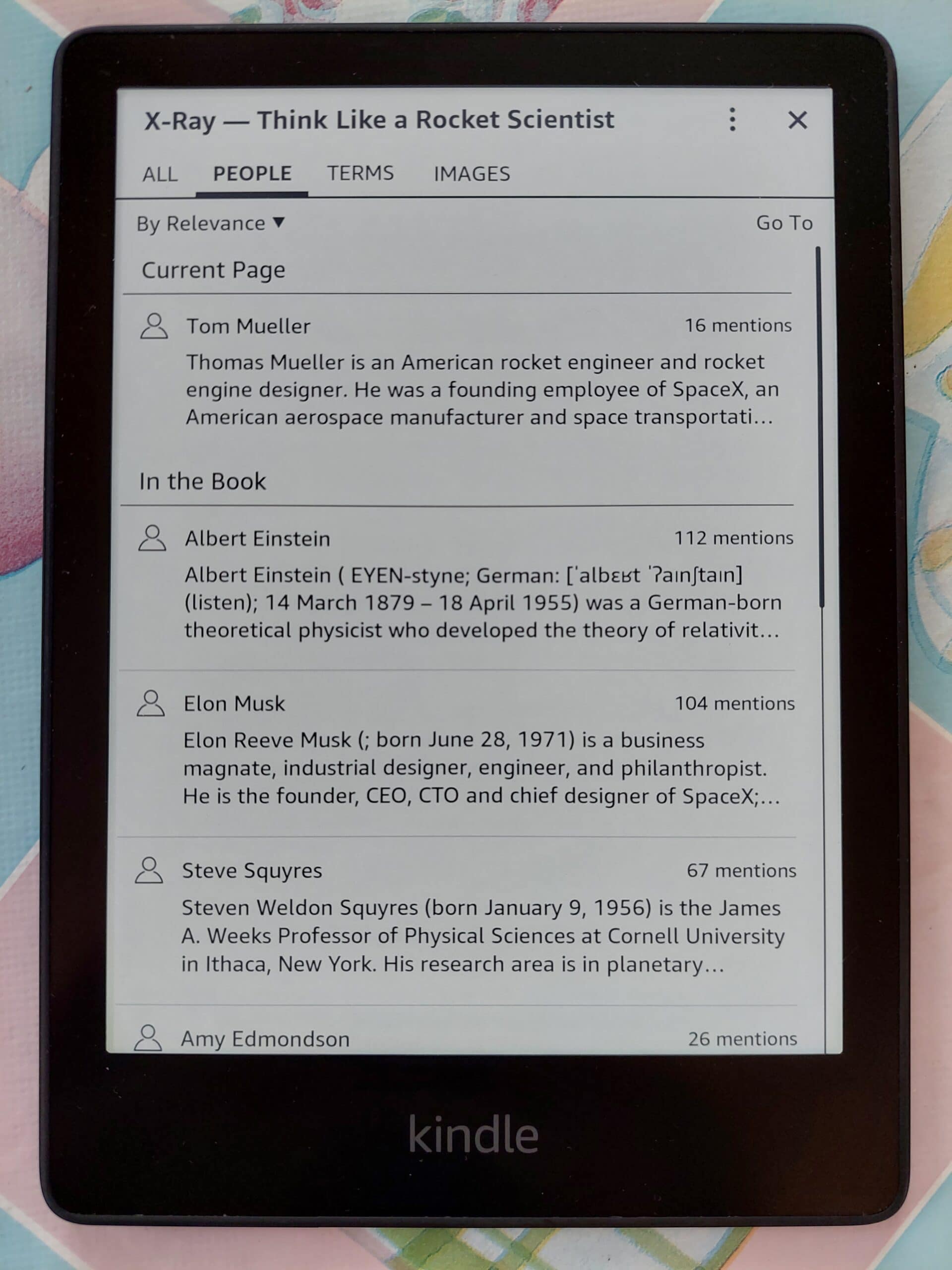 You can select any of these tabs which provides additional information relating to where you are in the book.
Be aware, that not every page in the book will contain x-ray information. Generally, about half of the book will have some description of sorts.
Do all Kindle books have X-Ray?
No, not all books on the Kindle Store will have x-ray. Generally, any book published before 2015 will not have this feature. However, some bestseller titles do have this included.
To see whether a book has X-Ray included, simply go to the book page on Amazon and scroll down to Product Details. There you should find "X-Ray" with "Enabled" next to it, provided the book supports x-ray.
Do you need WiFi for X-Ray?
You do not need WiFi as X-Ray is already built into the ebook and can be viewed without a WiFi connection.
Is X-Ray available on all Kindles?
X-Ray is only available on newer versions of Kindle, which includes Kindle Oasis (2018), Kindle Paperwhite 4 and Kindle Basic (2018).
Other Kindle Features Worth Mentioning
Before I wrap up here, there are several other kindle features that I really want to mention in case you are considering buying a Kindle.
For me, the features alone are the reason why I use Kindle exclusively for reading.
If you're interested, you may want to check out Word Wise which will expand your vocabulary, Whispersync which allows you to effortlessly switch to listening mode or even having a built-in dictionary that you can conveniently refer to.