The wait is final over.
This week Amazon gave us details of the all-new Kindle Paperwhite which will be released on October 27, 2021.
And it's better than I could have imagined!
Kindle Paperwhite and Signature Edition
Amazon have released not one, but two new Kindle Paperwhite devices - the Standard and Signature Edition. The Signature includes an auto adjust light sensor, larger on-board storage and wireless charging!
For more details our Kindle Paperwhite Standard vs Signature Comparison Guide gives you clear side-by-side comparison of all the latest features.
Kindle Paperwhite Kids
As well as the two previous mentioned, Amazon have also upgraded Kindle Kids, which comes with access to over a thousand ebooks and a 2-year worry-free guarantee and a awesome child-friendly cover.
Kindle Paperwhite 2018 vs 2021 Comparison
Larger screen size
The Kindle Paperwhite screen size has been upgrade from the basic 6 inch to an impressive 6.8 inch.
This put the screen size closer to Amazon's premium ereader the Kindle Oasis, which makes you think what does Amazon have in store for the Oasis?
Double the resolution
With a new screen size comes a higher resolution, twice the resolution to be precise.
The 2021 Kindle Paperwhite has been upgraded from 167ppi (pixels per inch) to 300ppi. This makes sense as the current Kindle Oasis features the same resolution with similar screen size.
Adjustable Warm Light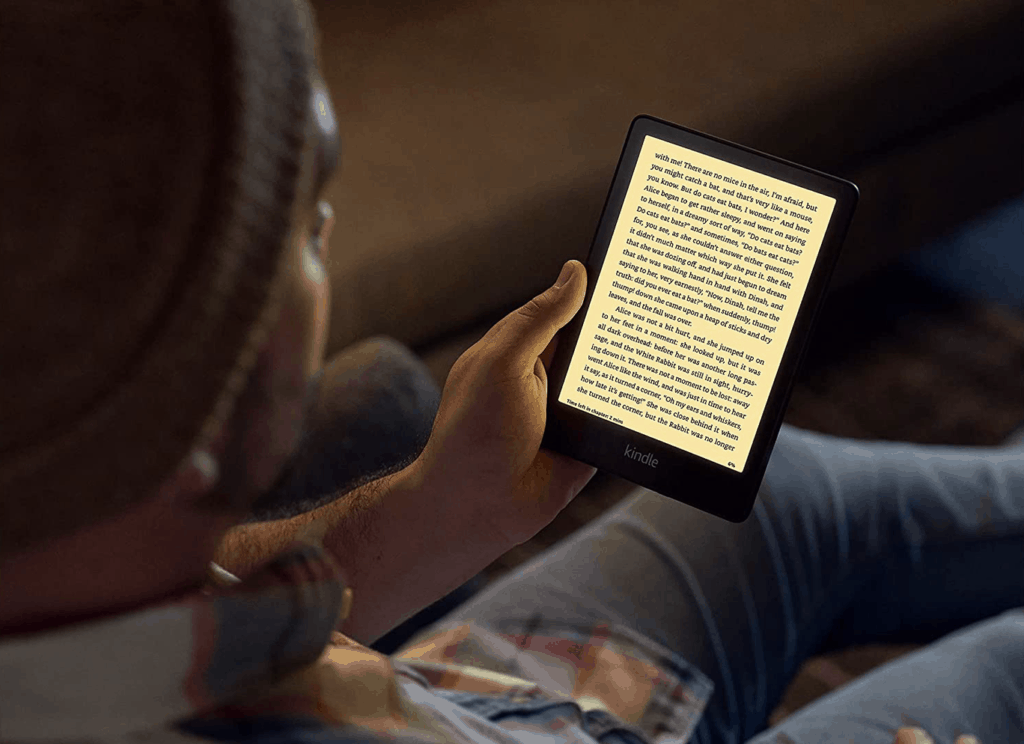 This feature was first introduced on the Kindle Oasis 2018 and I'm sure it will be a welcome for all Kindle fans for this to be available on all devices.
Longer Battery Life
As predicted in our Kindle Rumors column the latest Kindle Paperwhite will have double the battery life. This upgrade is thanks to a larger battery capacity and a more power efficient processor and bluetooth device.
A single charge should last for up to 10 weeks (reading half an hour a day) compared to the current 4 weeks, and an impressive 13 weeks with wireless comms disabled.
USB-C Connector
Amazon have finally introduced USB C into the Kindle family, which brings faster charge times and data transfers which we discus at length in USB-C Kindle.
Quicker data rates will have very little effect on transferring smaller PDF or MOBI files, due to the file size of a couple of Megabytes.
Surprisingly, faster charge rates will not result in quicker charge times, due to the larger battery. Charge times will remain roughly the same as the Paperwhite (10th Gen) at approx. 2.5 hours, when using a new 9W charger or up to 5 hours when charging via a computer USB port.
Waterproof IPX8
A really useful feature for all you sun-goers is that Kindle 11th Gen is waterproof to IPX8.
This protects you against accidental immersion of up to 2 meters in fresh water for up to 60 minutes and a quarter of a meter in salt water. Which is handy when you're laying by the pool.
Ads at a Discount
Customers can still save themselves $20 by purchasing Kindle Paperwhite with Ads. Personally, I have not found them to be too intrusive in the past with the current version, but who knows whether this continues in this latest revision.
3 Month Kindle Unlimited for Free
If this wasn't enough, Amazon are also giving customers that purchase the all-new Kindle Paperwhite 3 months Kindle Unlimited for free. That's a saving of $29.97.
This means access to every ebook in Amazon's extensive Kindle library, unlimited audiobooks and a wide range of magazine subscriptions from some well-known brands such as Good Housekeeping, Elle, Popular Mechanics and New Scientist.
Summary
It looks as though Amazon are looking to differentiate between Kindle models, so I'm really looking forward to seeing what features end up on the new Kindle Oasis.
I suspect the Oasis may increase in size to compete with the likes of the 10" Kobo Eclipse and 8" Boox Nova 3.
Time will tell, but things are certainly heating up in the ereader space.