Saving $25 seemed like a good idea at the time.
But after a couple of months, you get frustrated with seeing the same old ads display on your Kindle and want them removed.
Fortunately, you can do this relatively simply by paying the difference.
Alternatively, you can do what several of our readers have done and ask Amazon customer service to remove Kindle ads at no extra cost.
With my Kindle Paperwhite just over a year old now I decided to try this out for myself, and give suggestions on what to say over the phone to increase your chances of success.
Removing Ads from Kindle
There are a few ways to remove ads from Kindle.
Pay to have ads removed.
Speak to customer service that "may" do this at no cost.
Edit one of the root directory folders to disable Kindle ads.
Do you know? 💡

You can filter ads by going to Settings > Your Account > Ads. Turning the Ads Filter on hides any images that may not be suitable for younger audiences that use your Kindle. It's also a nice quick way to limit advertising on your device.

1. Pay to Remove Offers
If you can't be bothered with all the faff of speaking to customer service, this is the quickest way to remove ads from your device. You will need access to your Amazon account which you can do via the Amazon app or web browser.
Web Browser
1. On the home page [web browser] go to Accounts & List > Manage your Content & Devices.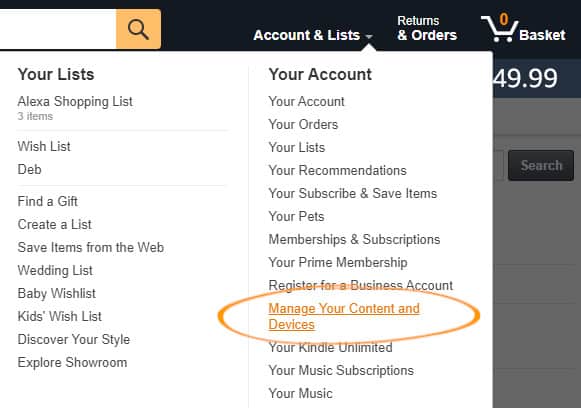 2. Select the Devices tab and the Kindle icon.
3. You should now see a row of Kindle devices you own. Select the Kindle device you want ads removing.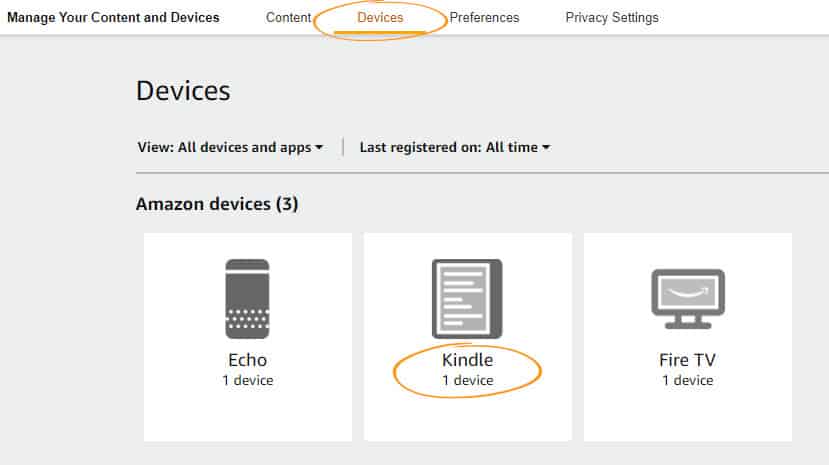 4. Just below Device Summary you should see Special Offers with an orange label saying Active.
5. Select the Remove Offers button.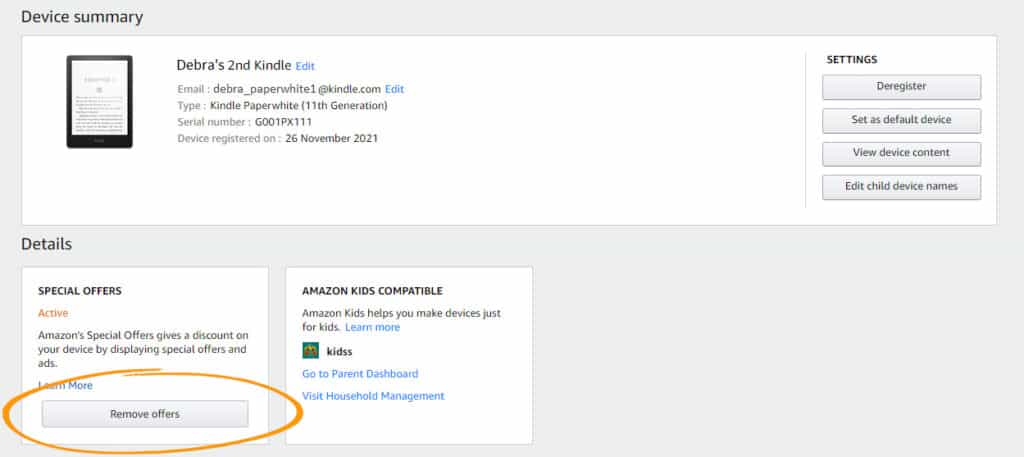 As Amazon states in the Special Offers window that you will be charged a fee, which is the same as the discount you received during the purchase. This fee automatic comes from your default card payment.
6. If you agree the terms, click on End Offers and Pay the Fee.

You should receive an order acknowledgement via email and provided your Kindle has a network connection, Amazon will automatically remove adverts from your Kindle Paperwhite or Oasis device.
Amazon App
Select the User Icon and tap Your Account.
Scroll down and select Content and Devices.
Tap on the Devices tab and select the Kindle device you want ads removed from.
Scroll down to Details > Special offers and select Remove Offers.
Selecting End offers and Pay the Fee confirms that you will pay the fee to have ads removed from your device.
2. Speak to Customer Support
The cheapest way is to politely ask customer support if they would remove ads for free. You can do this in one of two ways.
1. The first is to speak to Amazon Customer Support directly over the phone. Depending on the time of day this can take anywhere up to 20 mins during peak times, with most of that time being spent waiting in a queue.
If you're not sure what to say to customer service, you could try the following:
You: "Hey, I have a Kindle ereader and I find the adverts are quite annoying and I was wondering if they could be removed?"
Customer Service: "Sure we normally charge for this service; would you like me to continue?"
You: "I was hoping I wouldn't have to pay for this, is there any chance you could waiver the fee?"
If customer service is refusing to budge, try and see if they are willing to negotiate a deal where by if you pay for the service you will receive something back such as credit to go towards a new Kindle book.

From the comments we've received I would say that in most cases (90% of time) Amazon customer services will waiver the fee. but it is important to be courteous throughout the conversation regardless of the outcome.
2. Alternatively, you can connect to customer service by Live Chat. This is especially easier to do if you have a desk job as it would allow you to message whilst working on your desktop.
In fact, I find myself speaking to customer service more frequently this way as it saves me countless hours a year on the phone. Instead, I can request a live chat and continue with my work while I wait in the queue and will be notified once I receive a message.
Again, if you are not sure what to say during the live chat you can copy and edit some of the text in the phone conversation mentioned earlier.
No Guarantee
I will preface before you pick up the phone or start a live chat that this may not work. Just because this has worked in the past, does not mean that it will continue to work in the future. Companies change their policies on all things related to their business all the time and this is by no means no exception.
3. Edit File in Root Directory
While its possible to remove ads by editing a file within the Kindle root directory, it's by no means a simple task and requires some technical experience with file structures and operating systems.
Then there's the chance that you could accidentally edit parts of the file or delete other files altogether, which may render your Kindle useless.
Overall, If you do not have the experience I would completely avoid this option.
Are ads Really that bad?
Before you click on the End Offers button or get on the phone to Amazon, you should ask yourself "Do I really want ads removing from my device?"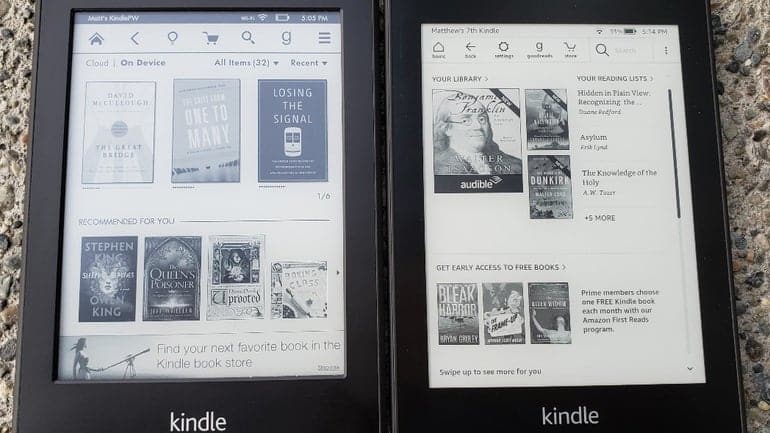 "Are they really that annoying that I'm willing to either pay for the privileged, or spend valuable time trying to persuade someone to remove them?"
If you happen to have purchased a new Kindle Paperwhite (11th Gen) with ads by mistake, I encourage you to at least try the device for a couple of weeks to see if they are they bothersome to you.
Chances are that you will get used to them and may even like the suggestions given.
Kindle ads have changed a lot over the years, and I personally have no issue with keeping ads on my device as they are much less intrusive as they once were. If you are still undecided, I made a comparison of Kindle with or without ads which may help.
Why I would STILL have Ads on my Kindle
Even though I removed ads from my Kindle (just to see if it works), I would still have ads on my device today.
To be honest Amazon ads have come a long way from even a couple of years ago.
On previous devices ads were a little more intrusive. There would be a banner that would run along the bottom of the Home screen, which was somewhat annoying. But this is now gone on the latest software release.
Now, you will only find adverts or special offers on the screensaver, and Amazon's AI is improving by the day, meaning they are serving book recommendations based on your personal preference, and I have to say, I have been close to purchasing a few of those recommendations. Where they let themselves down is not showing the price of the book, instead you have to tap on 'Learn More' to be re-directed to the Kindle Store before seeing the price, personally I would like to see the price before I'm re-directed to the store.
Would I buy a new Kindle with ads?
For the time being yes, as I don't find them intrusive and personally, I find them more interesting that the small selection of screensavers that become repetitive quite quickly.