You've come to read the next chapter in a book only to find that your Kindle won't turn on and it looks dead.
Don't worry, this can happen from time to time.
Here I'll discuss the three primary reasons behind this common problem and provide some actionable solutions that have been proven to resurrect your kindle.
Let's dig in!
1. Frozen Display
A frozen display is normally the main culprit when it comes to Kindle Paperwhite won't turn on or a frozen screen issues.
You can fix this yourself by following the steps below:
Press and Hold the power button for 40 to 50 seconds until the display goes blank, then release.
The device should now boot up and display the Kindle logo.
Do you know? 💡

The Kindle Paperwhite never really powers down, even when you hold the power button down. Instead, it goes into sleep mode and turns off the display.

Occasionally (although very rare) the devices operating system can hang. When you Press and hold the power button for longer than 40 seconds, this forces the device to fully reboot.
2. Faulty Battery or Charger
Next is to check that battery is fine.
The simplest way is to charge your Kindle using a USB cable and wall charger.
But first, we need to be sure that the wall charger and cable are OK. Simplest way is to plug the USB into another device and check that the charging icon appears. If not, it's likely to be the cable so replace this first and repeat the test.
Once your happy the charge/cable works plug the cable into the Kindle device. You may need to wait approx 10mins if the battery is completely dead before you see an indicator light.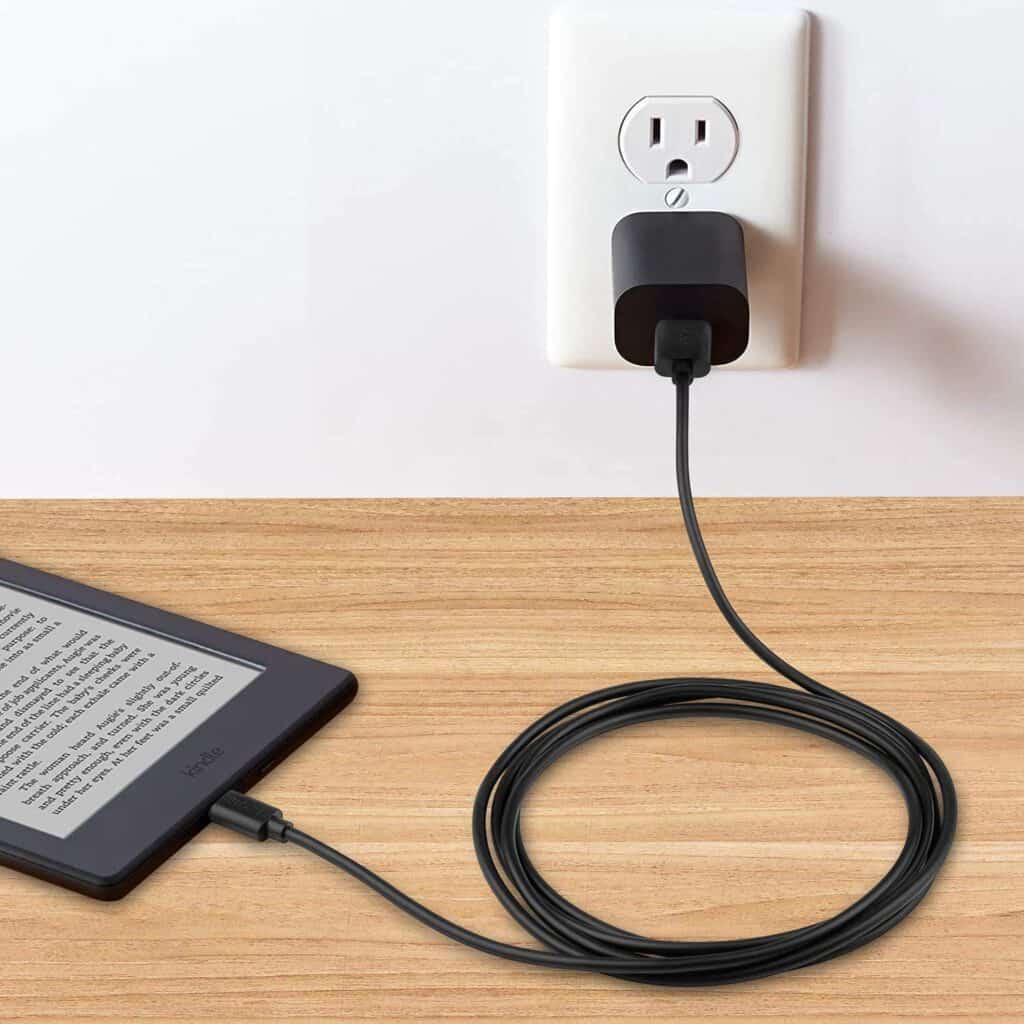 You should see an orange light appear next to the USB socket on Kindle.
If the amber light is solid this indicates that the battery appears to be OK and charging as normal.
Does the Kindle charging light flash or change color? If so, this could indicate an issue with the battery. For more details, our guide on the Kindle charging light briefly explains all of the indications and what they mean.
From my experience of troubleshooting friends devices and those of you who have reached out, issues with batteries are a rarity, however they do happen.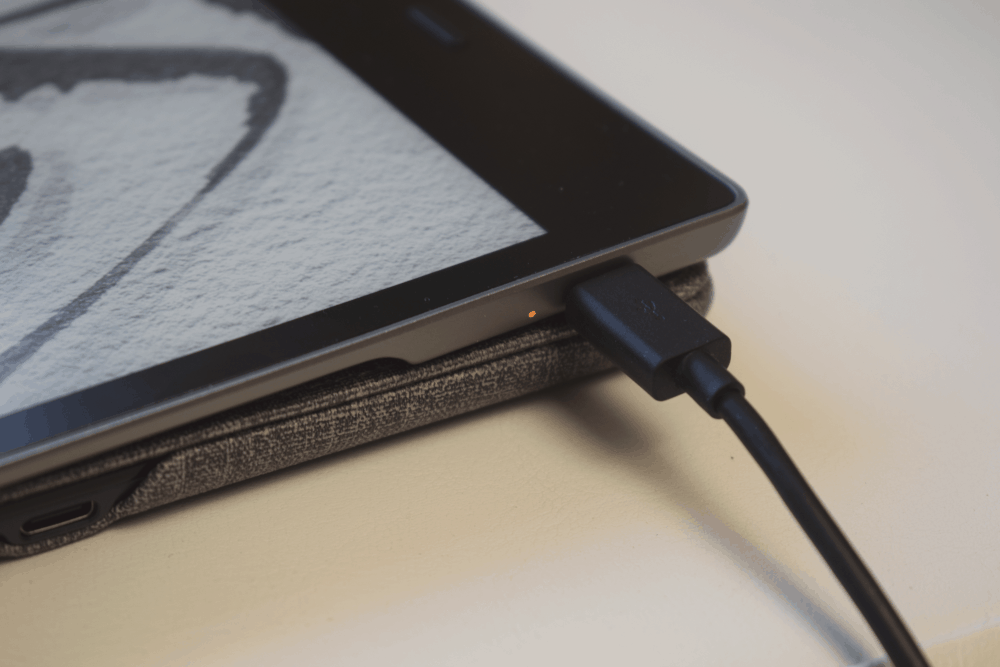 Signs of a damaged or bulging battery include:
The device rocks on a flat surface.
Orange light flashes during charge.
No charging (orange) light, even after a long pre-charge.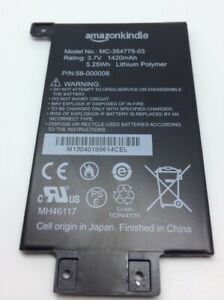 If you have any of these issues, it's likely that the battery needs replacing. If you are within your warranty Amazon will replace it with no quibble. If you are outside of the warranty terms, we have details later on what to do.
Of course, you could try to replace the battery yourself.
Unlike mobile phones, Kindle ereaders are larger and therefore easier to access and replace the battery. In fact, I had a go myself on a Kindle Oasis that was 3 years old and it was much simpler than I first thought.
3. Battery Voltage too low
If you happen to leave your Kindle for any extended period, the device's battery may dip below its operating voltage necessary to run.
Your Kindle will display an exclamation mark when the battery charge gets critical. If it goes beyond this, you get a completely blank screen and the Kindle Paperwhite will look dead.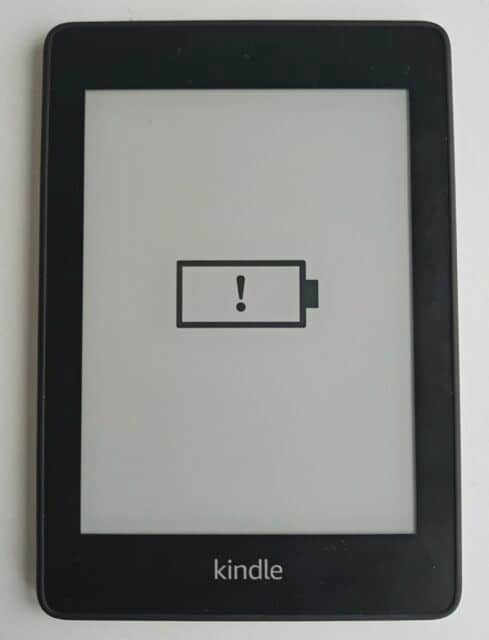 The solution is to charge the Kindle, but this will take much longer than normal.
Most charge times for a Kindle Paperwhite are anywhere up to 2 hours depending on the age of the device.
If the battery is completely dead, the Kindle will need to pre-charge the battery at a much slower rate, also known as "trickle charge", so not to overheat or damage the battery. This can take up to 15 mins to get to a safe voltage level before switching to a normal charge rate.
It can take at least 30 mins before you see any sign of life on the display. So, plug your Kindle Paperwhite into the charger and leave it for a while. Following this, you should see the battery icon on the display or the screensaver.
If the device still shows no signs, you may need to reboot the device using the instructions from section 1.
Kindle Paperwhite STILL Won't turn on?
So, you've tried all of the above and your Kindle Paperwhite is STILL not working.
You might want to check out my Kindle Troubleshooting Guide which covers every issue you can think of that could go wrong, along with practical solutions. It comes with diagrams and screenshots to get you back to reading in no time!
It could be that there is a hardware issue with your device such as a failed power supply or CPU.
In cases like this you are best speaking to Amazon with regards to either a replacement or repair.
12 Month Warranty
If your device is within its 12-month warranty, Amazon will give you the option of a refund or replacement. Personally, I would take the refund, as it allows you to repurchase a new Kindle Paperwhite with a further 12 months warranty. Whereas if you were to accept a replacement, your device would be under the existing warranty period.
Older Devices – Outside of Warranty
For those of you with Kindle's that fall outside of the 12-month warranty, I would still get in touch with Amazon.
In most cases they will replace the device if it is less than 2 years old. Anything longer than this they will offer to repair the device, but the cost may be half the price of a new device (depending on what needs to be repaired and the time spent to do this).
When the cost to repair the device is half the price or more, it's worth considering whether to purchase a new device, as other parts could fail on a repaired device later on.
Summary
I've done my best to provide a step-by-step guide to recovering a Kindle device that won't turn on that is easy to follow.
Generally, there are two main reasons why your Kindle Paperwhite won't turn on and they are either the device has frozen and needs a hard reset or the battery has been fully discharged and needs a while longer to fully charge.
If the device has a fault, Amazon will likely replace the device free-of-charge if it's less than 2 years old.
Outside of this, you may need to weigh up the cost to repair over getting a new device. Whilst a repaired device is cheaper, other parts could fail in the future, so it's worth considering before jumping in.