You'd be forgiven for thinking that you can install apps on a Kindle Paperwhite.
In reality you can't.
Ereaders are very different to the smart phones and tablets we frequently use.
However, you can have a similar experience without downloading a single app and later we'll show you how.
Can you Get Apps on a Kindle Paperwhite?
You cannot install third-party apps on the Kindle Paperwhite or any of the Kindle ereaders. Unlike the Kindle Fire, Kindle ereaders have a very basic operating system as they are only intended for reading books. Therefore, you are unable to install any apps, due to limitations in the software.
Fire Power
In contrast, the Kindle Fire tablets are intended to run variety of tasks, from browsing the web to sending messages & making video calls. Under the hood is the Android Operating System (OS) which allows you to install apps via Amazon's own Kindle store.
Tablets in general are more multi-functional and therefore require a more sophisticated operating system which is why you can download games onto them.

Does this include Kindle Games?
Afraid so.
Kindle ereaders are mainly focused on reading, which is the reason why you can't download apps. The hardware and software on all Kindle ereaders have been optimized for reading only.
Can you put Apps on the Kindle Oasis?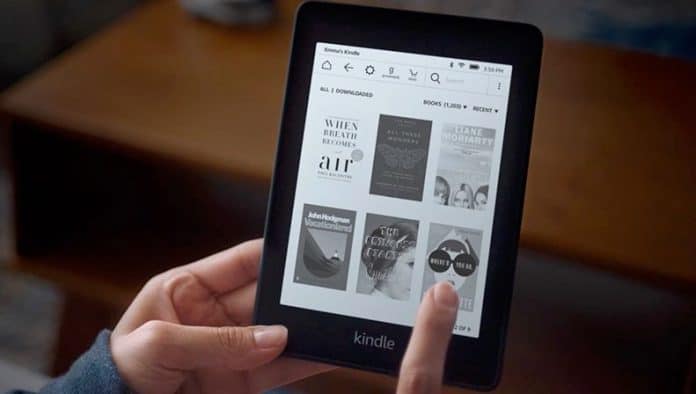 Similar to the Paperwhite, you cannot install apps onto the Kindle Oasis. Amazon's own proprietary operating system restricts you from this. Although the operating system will be Linux based the limiting factor will be the hardware, with just enough DDR memory to read ebooks.
Can you watch movies on the Kindle Paperwhite?
The Kindle Paperwhite does not have the processing power nor memory required to watch movies. Even if the Paperwhite had the hardware/software, there may be limitations on the e-ink display itself, which may not have the refresh rate required to view at 30 frames per second for standard video.
Kindle Paperwhite Apps – FAQ
Which ereaders allow you to download apps?
Onxy Boox and Likebook are the only two companies that have Android based ereaders to download apps. Onyx have a wide range of ereaders that supports Android apps ranging from typical 6 inch devices right the way up to 7.8 and 10 inch devices.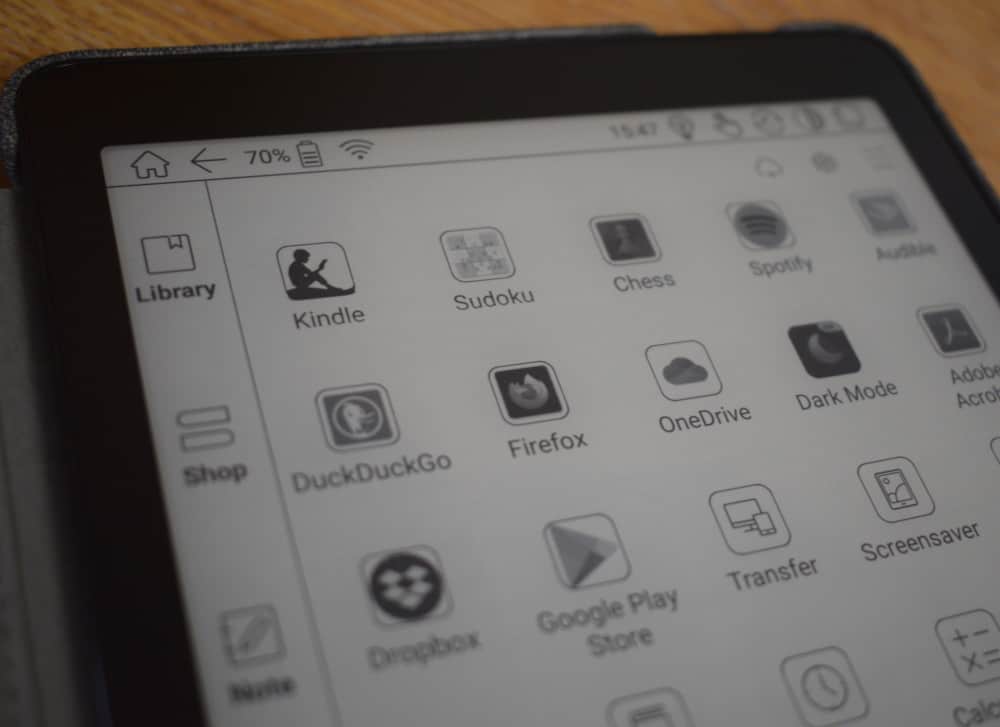 If you would like to know more, you can check out our BOOX comparison guide which compares all of the features across the range of ereaders available.
In contrast, Likebook has not been around for as long as Onyx and only has a two ereaders available. They are cheaper than Onyx BOOX devices, but the build quality and functionality isn't up to the same standard.
Generally, I recommend Onyx BOOX ereaders for anyone interested in using apps on their ereader.
If you're interested, I also wrote a list of 7 essential apps that I use every day to optimize my workflow.
Can you put apps on the Kindle Paperwhite?
You cannot install apps on the Kindle Paperwhite or on any of the Kindle ereaders. This is due to limitations on the hardware/software which is optimized for just reading ebooks.
Can you watch Netflix or Amazon Video on Kindle Paperwhite?
None of the streaming services can be watched on a Kindle Paperwhite as there is not enough processing power and memory or codec software to handle video. The only device capable of this in the Kindle range would be the Kindle Fire.
Can you use Facebook Messenger on Kindle Paperwhite?
You can use Messenger on Kindle Paperwhite via the web browser, but I have found it to be cumbersome and not really practical to use.
Most of the time the text is too small, and the zoom feature is not optimized on the browser, so it leaves the user feeling frustrated. And this is on the latest Kindle Paperwhite which boasts a faster CPU.
My advise would be to stick to mobile for Messenger.
Will we ever see a Kindle ereader with Android OS?
If you would have asked me 12 months ago I would have said no.
But the latest incarnation of Kindle Paperwhite which either matches or beats the Kindle Oasis on features leaves the Oasis in an odd place.
There is clearly an appetite for Android-based ereaders as Onyx have carved a nice niche for themselves. It just depends on whether Amazon believes the market is large enough for them to enter into.
It will be interesting to see whether Amazon will retire the Oasis or release a new device aimed at the professionals market to optimize workflow, we'll wait and see.
Summary
While ereaders look similar to other mobile devices we have laying in our home. In reality, they were designed for a specific purpose, to read books, and therefore cannot be used for anything else.
There are some alternatives to Kindle which allows you to do this, but they tend to be almost twice the price, so it's worth considering what you want the device for before you choose.