The new Kindle Paperwhite which released on 27th October has a lot of similarities to the current Kindle Oasis.
In fact, they could be twins:
| | | |
| --- | --- | --- |
| | Kindle Paperwhite 11th Gen (2021) | Kindle Oasis 3 (2019) |
| 7" E-Ink Display | ✓ | ✓ |
| Battery Life | 10 Weeks* | 6 Weeks* |
| Warm Light | ✓ | ✓ |
| Waterproof IPX8 | ✓ | ✓ |
| USB-C | ✓ | ✘ |
| Fast Charging | ✓ | ✘ |
As you can see, the new Paperwhite matches (and in some cases), beats the Kindle Oasis beats the Kindle Oasis on every feature which has become as standard on ereaders today. It puts the Kindle Oasis in an awkward position.
So, is this the end of the Kindle Oasis?
No.
In fact, I think it's just the beginning.
What Amazon have been missing is a 8-10" Kindle ereader (inc stylus) aimed at the professional market. Will we see this in 2022?

With the rise of Onyx BOOX and reMarkable, clearly there is a need for a professional ereader that enhances your workflow and allows you to sync notes and documents to the cloud.
I'm not talking about Send to Kindle, but one that syncs to a cloud management platform such as Dropbox or OneDrive. Something very similar to the Kobo Elipsa, which was released earlier this year.
Kobo in Prime Position
While some manufacturers are pushing their customers to a subscription service to sync their notes, Kobo allows you to sync your edited documents and notes to the cloud via third-party apps such as Dropbox for free.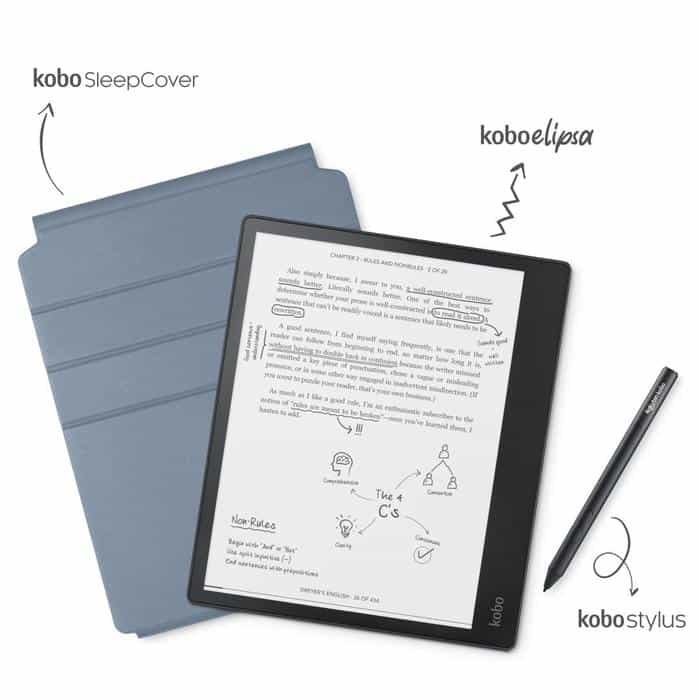 Kobo also do not appear to have any build quality issues either, such as displays cracking and battery problems when not in use. And with the Elipsa retailing at $399 they are significantly cheaper than their counterparts. This makes the Elipsa a very attractive proposition, if you are looking for a larger ereader without a monthly subscription.
Will Amazon ever release a 10" Ereader?
Amazon appear poised to release a larger screen ereader, but it may not be the desirable 10 inch that everyone is hoping for.
There appears to be more of an appetite from customers for larger screen ereaders.
The ability to have all your book and notes on one device makes it incredibly convenient for students and professionals alike.
The issue with larger screens is that they are prone to cracking, which we have seen with other ereader manufacturers.
Personally, I would like to see a Kindle Oasis with an 8.9" display, similar to the iPad Mini. Which makes reading PDF's more comfortable and avoids the need to zoom in to read text.
I think an 8.9" Kindle Oasis with a stylus that sync to AWS cloud and does not have battery or screen issues would be warmly welcome by the ereader community, and could possibly dominate the market thanks to Amazon high build quality.
Amazon the dominant player
It's been clear for a while that there is a market for a 10" ereader.
Rakuten (Kobo) are fully aware of this and have already gained market share in this industry by being first of the major players to release such a device.
I suspect Amazon are in the works as we speak and although I'm surprised not to see an update to the Kindle Oasis in 2021, It would be a surprise if they didn't update their premium ereader in late 2022 for the buildup to Christmas.
I could be that Amazon are waiting for customer feedback on the all new Kindle Paperwhite 2021, which has already received glowing reviews, before releasing the new Kindle Oasis.
Kindle Oasis 4 (2022) – What to expect
So, what should we expect to see on the new Kindle Oasis? Here are a list of features the Kindle Oasis would need to differentiate itself from the current Kindle Paperwhite 2021.
9-10" E-Ink Display
Larger battery capacity (12+ weeks)
Stylus Pen
USB-C with Fast Charging
Sync to Dropbox or Amazon Web Services (AWS)
Wireless Charging
Functional web browser
Android OS + Apps
Android integration?
For me the icing on the cake would be if they implemented the Android operating system to allow the Amazon Apps store.
This would open a plethora of third-party apps and make the Kindle Oasis a much more diverse device for customers using the device for more than just reading ebooks.
Onxy BOOX has carved out itself an interesting niche in the premium ereader market with more than 100k users visiting the site each month.
If Amazon were to release a new premium 10" ereader with Android OS it may even encourage third-party developers to create innovative apps to serve the ereader community.
Summary
So, where am I going with all this?
Will Amazon release a new bigger, better ereader to contend with the Kobo Elipsa?
They would be fools not to!
Unless you worked for Amazon's marketing team, it would be impossible to know for sure. But I'm confident that Kindle will be releasing a new 8-10" ereader with a stylus by the end of 2022.
If you can't wait for Kindle to release a new premium ereader you can still get the Kindle Oasis 3 (2019) with a 28% discount. If you trade in your old Kindle you can also save a further 20%, to learn how, check out our guide on Kindle Trade In and how to take advantage of this sweet deal.