Life can be so chaotic.
We forget about friends or loved ones' birthdays, until you get a calendar notification or a reminder on Facebook.
Luckily, a personalized gift card can be a nice last-minute gift option.
In this guide, I'll show you how to buy a discounted or in some cases a "free-ish" gift card saving you money in the process.
Where can you buy Kindle Gift Cards?
Purchasing directly on Amazon is the simplest way to buy Kindle Gift Cards, especially if you want to send ecard via email (which I'll show you how to do later).
Alternatively, if you prefer to present the person receiving the gift with an actual physical gift card, you can pick these up at the local retail store, these include Dollar General, Best Buy, Gamestop, Kroger and Lowes.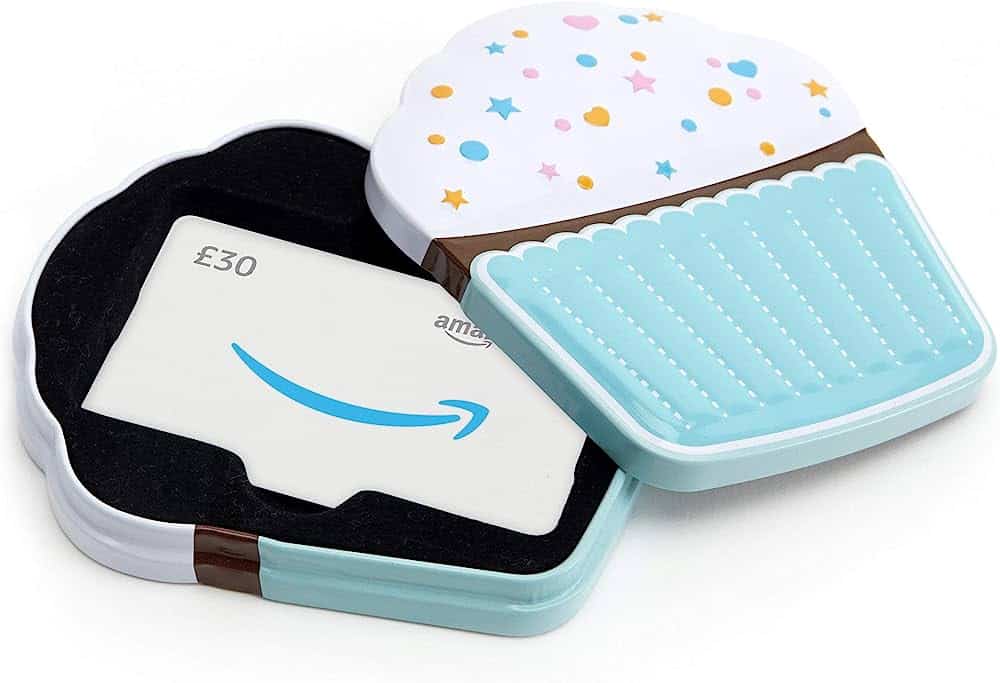 You can find a full list of participating retailers on the Amazon website.
All the major supermarkets such as Walmart, Target and Costco do not sell Amazon gift cards.
Is there a Difference Between Kindle and Amazon Gift Card's?
Apart from the brand names there is no difference between the Amazon and Kindle Gift cards. Both cards can be used for any eligible products that are sold on the Amazon store.
So, the good news is that if you give a Kindle card to a friend or family member, they are not restricted to making purchases only on the Kindle store (although I could quickly find a way of using the credit on Kindle).
How to Buy a Kindle Gift Card on Amazon
Amazon has a wide selection of card and gift box designs to choose from, and since Amazon/Kindle gift cards can be used anywhere on eligible items you may want to pick a gift card tin that may be more personalized to the recipient.
Purchasing a Kindle gift card is straightforward, here's how to do it:
Type "kindle gift card" into the Amazon search bar at the top of the homepage.
Select the Kindle card logo.
Choose the amount you want to credit to the card.
Select your card layout from over 50 designs.
Once you're happy, click on Add to Basket.
Follow the payment steps to complete the purchase.
The gift amount that you can credit to the card can range from $10 to $1000. If the amount is greater than $50, you have the option to enter any specific amount you want before you Add to Basket.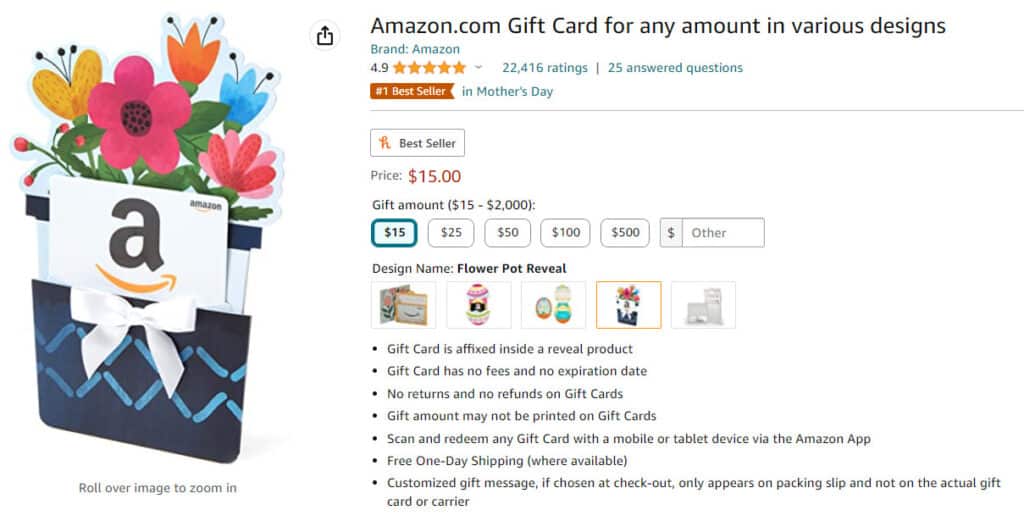 Looking for next day delivery?
You could select Next Day service, but expect to pay a few dollars more for the service
However, you could opt for Amazon Prime which offers next day delivery for free. New customers can receive a 30-day free trial of Amazon Prime but remember to cancel before your trial period otherwise you will be charged for the service.
How do you receive your gift card?
In a hurry and desperately need a gift card same day?
Amazon gives you the option to send gift cards electronically as an ecard.
Don't worry! It won't look like a normal bog-standard email. Amazon uses beautiful graphics and fonts to make the email look perfect.
Also, the bonus of purchasing an ecard service is that the recipient can use the gift card code as soon as it arrives.
For those of you that chose one of the many cute gift card tins available, these will normally arrive within the next few days. Amazon will advise you just before you pay of when the item will likely arrive by post.
Redeem a gift card
To redeem a gift card, go to the Amazon homepage and select:
Account > Gift Cards & Top Up and select Redeem a Gift Card.
Or if you're in the US, you can quickly jump to Redeem a Gift Card.
You are now asked to provide your gift card code, this can be found at the back of the card or on the ecard.
Enter the long gift card code and select Apply to your Balance.
You should now see an acknowledgement that your balance has been updated.
To view your balance (just to be sure), go to Account > Your Payments. Under Rewards & Balances the current account balance will be displayed.
Amazon does mention that you can't use a gift card to purchase other gift cards and that you can use gift cards as a partial form payment for an item. If you have any redemption issues the link provided should help.
Making Gift Cards go further
If you happen to be the recipient of a gift card, one way to maximise it's use is to use this to purchase a month or two subscription to Kindle Unlimited.
Generally, you will only benefit from this if you have plenty of free time to cram any reading time as possible to devour as many books in a month as possible, but it's certainly a great way to get value out of any gift card.
Get a Kindle Gift Card on discount
Fancy buying a gift card for less than the actual credit of the card?
Consider browsing auction sites like eBay to find gift cards sold below their face value. Just be sure not to pay more!
There are tons of folk looking to sell their gift card in exchange for cash with most selling the card for less than the gift card amount itself.
Most of the time gift cards sell at a 5-10% discount than their actual value. But if you watch anywhere the auction ends late at night (from 9pm onwards) there will be fewer bidders and you can save up to 20%.

The best way to save you any time is to use an Ebay tracking (sometimes referred to sniper) tool that monitor searches for "Amazon gift cards" with a specific value and you set the maximum value you are willing to pay.
So, let's say you are looking for a $20 Amazon gift card and put a maximum limit of $16. If you win you've just saved 20% and will receive a $20 card. Just be sure to set a seller feedback of at least 95% or more and reviews greater than 10.
Receive a Free-ish Kindle Gift Card?
Here's a way to stretch your money even further, if you're planning on spending $50 or more…
If you're looking to spend $50 or more on someone, you may want to take advantage of Amazon's Top up offer, which gives you $10 credit when you top up with $50.
This leaves you with $60 credit in your Amazon account to spend as you like. Meaning you could give your friend or loved one a $50 gift card, which leaves you with $10 to spend on yourself. Or spend $50 on yourself and send the $10 gift card to someone.
[1] As with everything in life there are exceptions, such as top up and other offers which do not accept gift cards as payment. Check Amazon eligibility terms before you purchase.