It's crazy just how quickly you can fill your Kindle bookshelf, thanks to all of the amazing daily deals Amazon has to offer.
And I've accumulated quite a collection of ebooks in my library.
So, in this guide I'll show you how I organize my Kindle purchase history and library, making it easier to navigate and see what I've purchased.
One of the main perks of having a Kindle library is ability to search within the list of purchased books. It's quite useful to quickly locate specific words, phrases, or names, allowing me to jump to a certain page or refresh my memory on a particular scene.
How to Find Books I Bought on my Kindle
View Kindle Book Purchase History on Amazon Account
To see the complete purchase history of my Kindle library books, I usually visit the Manage Your Content and Devices page on Amazon and select Books.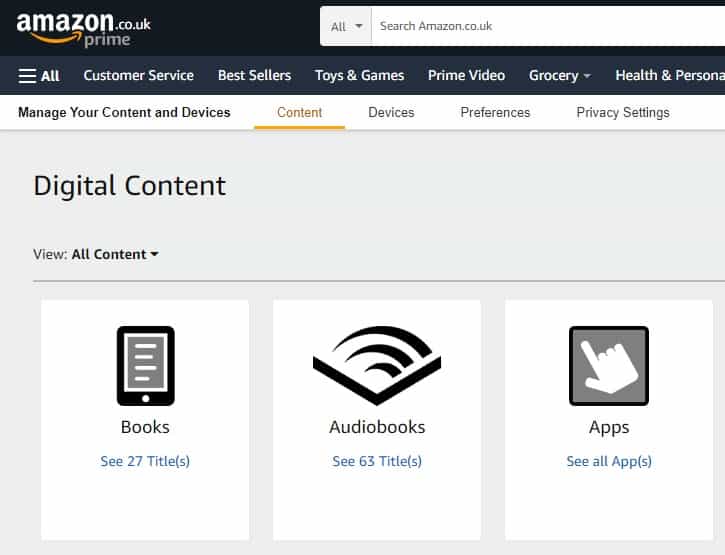 Here, I can find all my purchased ebooks, audiobooks, apps, and videos. This page also allows me to manage my device settings.
How to Search my Purchased Book Library?
When I need to search for a specific book in my Kindle library, I follow these simple steps:
Open the Kindle app or device.
Tap on the search icon or magnifying glass.
Enter the book title, author, or any keywords related to the book.
The search results will display all the matching books in my library.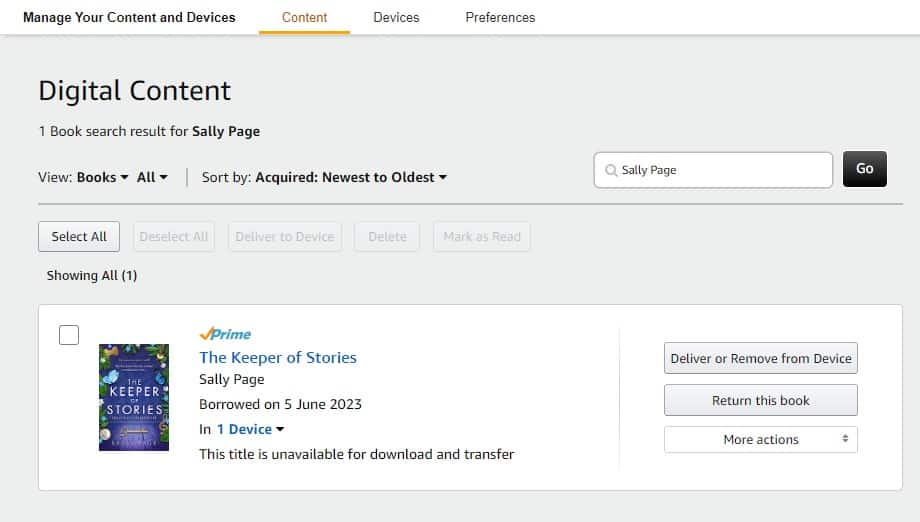 By using the search function, I can easily find the books I've purchased without manually browsing through my entire library.
How to restore deleted books on my Kindle device?
Sometimes, I accidentally delete a book from my Kindle device or app. But thankfully, it's possible to restore it. Here's how I do it:
Go to the Manage Your Content and Devices page on Amazon.
Click on the "Content" tab.
Find the deleted book in the list.
Click on the "Actions" button next to the book.
Select "Deliver" and choose the Kindle device or app to restore the book.
Once complete, the deleted book should reappear on the device or app, allowing you to continue reading.
Accessing Your Kindle Library on Different Devices
View Purchase History on Mobile Device
To access Kindle library on a mobile device, you need the Kindle app.
First, download and install the Kindle app on my mobile device. After installing, sign in to my Amazon account, and the app automatically syncs to your Kindle library.
All purchased books will appear on the app's home screen. I can also filter the view by selecting "Books" from the menu. If a particular book isn't showing up, I can pull down the screen to refresh the library and ensure it syncs with my Amazon account.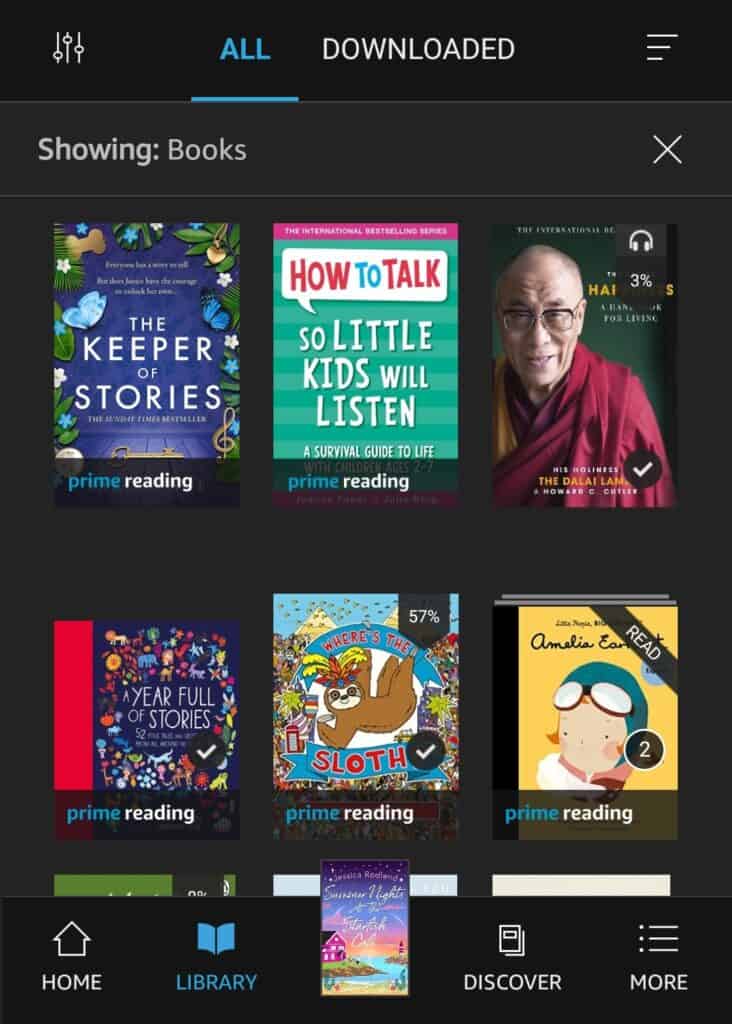 View Purchase History on Kindle Device
On my Kindle device, I press the "Home" button to access the Kindle library. There, I see all my purchased books. To view only the downloaded books, I can easily filter them by selecting "Downloaded" from the library menu.
If I want to access my purchase history and check for new books, I can:
Press the "Menu" button.
Select "Settings."
Select "Sync & Check for Items."
This will initiate the sync process, ensuring Kindle library is updated with the latest purchases.
For both mobile devices and Kindle devices, I can access my entire Kindle library simply by going to the Amazon website and logging into my account. Then, I click on "Account & Lists" > "Content & Devices" > "Your Kindle Library." Here, I can manage my Kindle library and even download eBooks directly to different registered devices.
Understanding Your Kindle Account Library
Home, Cloud, and Device Tabs
There are three tabs that help me in managing my content: Home, Cloud, and Device.
Home tab shows a list of the most recent books I've added to Kindle, alongside recommendations for other titles I might be interested in.
Do you know? 💡

The Cloud tab contains all the books I've purchased or borrowed from Amazon, as well as any personal documents I've sent to my account.

Finally, the Device tab displays the books that are currently downloaded on my Kindle device for offline reading. This makes it so easy for me to access and manage my content across different devices.
Your Library & Amazon Account
Every time I purchase a Kindle book, it's automatically added to my Cloud library and available for download on my registered devices.
Similarly, if I borrow a book through Kindle Unlimited or Prime Reading, it will also appear in my Cloud library and be accessible across all my devices. This seamless integration makes managing your library much simpler.
How to Cancel an Order from Your Purchase History
Ever purchased a book and within the first couple of pages wished you hadn't?
Well fortunately you can easily cancel an order by visiting the Manage Your Content and Devices page on Amazon.
Select "Your Content" tab and find the book I want to return or cancel. Then, click the "..." button next to the title, and click on "Return for Refund" or "Cancel Order." The book will be removed from my library, and the refund will be processed (if applicable).
Download a Book from your Purchase History
When I want to read a book from my Cloud library on a specific device, I need to download it first.
To do this, I open the Kindle app or Kindle device, navigate to the Cloud tab, and find the book I want to read. By tapping on the book cover, the download will begin, and once completed, the book will become accessible for offline reading under the Device tab.
Managing Your Kindle Library
Download and Delivery Options
When it comes to managing a Kindle library, there are several options you can use for downloading and ensuring smooth delivery of content.
First, download books to the Kindle app, which is available on various devices such as a PC, Mac, iOS, or Android. Once purchased, simply open the Kindle app and go to the library to download and read it.
In addition, you can manage the content, registered devices, and account settings directly on Amazon's Manage Your Content and Devices page. Here, you can easily view or modify the categories that include books, audiobooks.
Organizing and Removing Books
I use Kindle's built-in book organization system to ensure that everything is in order. I create custom categories, or Collections, to group my books by genre, author, or reading status.
When it comes to book organization tips, I have found some that make managing my Kindle library a breeze.
For example, I make sure to remove books from my device after reading them to avoid clutter. However, these books will still be stored in my Amazon account and can be re-downloaded at any time.

In case removing a book from my device isn't enough, you can permanently delete it from my library, by visiting Amazon's Manage Your Content and Devices page, selecting the book and clicking on the "Delete" option. Be aware that once deleted you would need to repurchase.
Taking advantage of Amazon Kindle's content management tools has helped keep my library as tidy as my bookcase, making it easy to access and enjoy my reading content.
These practical solutions have truly made keeping track of my books a hassle-free experience.