While Kindle devices are prefect for viewing ebooks, they are not as accessible when it comes to anything else.
However, Dropbox to Kindle would be the perfect solution and open-up a world of possibilities. In this feature, I'll discuss whether it's possible to sync your Dropbox to Kindle.
I'll also highlight some ereaders that makes it easy to install Dropbox a breeze and give you my top pick.
Can Kindle access Dropbox?

Unfortunately, Kindle ereader devices cannot access Dropbox as they use a basic operating system due to processing limitations of the CPU. This means that you are unable to download and install any third-party apps such as Dropbox.
Due to the simplicity and limitations of the hardware, you cannot even jailbreak the device and install an Android OS.
However, where there's a will there's a way.
Later I'll show you how to get a Dropbox-ish feature that will allow you to transfer files through the cloud and onto your Kindle device.
Which Ereaders have access to Dropbox?
You may be pleasantly surprised to know that there are several ereaders that do allow you access to Dropbox.
The first two recommendations are Onyx BOOX and Boyue. Both manufacturers design Android-based OS ereaders, making it quite easy to install and setup Dropbox. So, if you are looking for a hassle-free way of viewing Dropbox documents on your ereader I highly recommend this options, as it provides greater flexibility for you.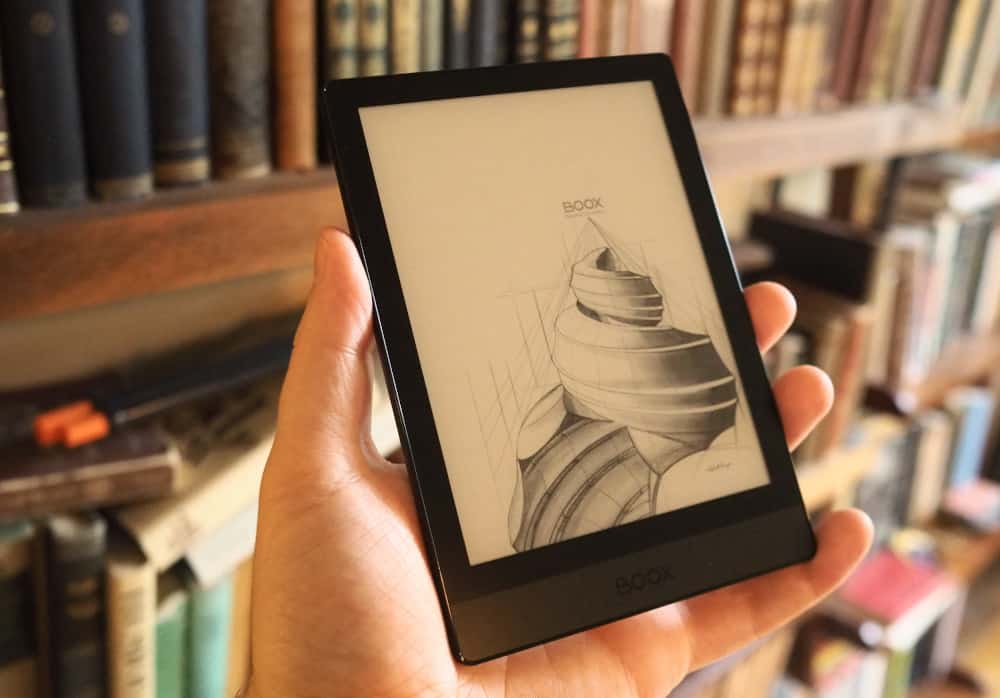 Kobo is the only ereader company that provides native support for Dropbox. This means that Dropbox works "out of the box" with the Kobo Forma and does not require any third-party apps or technical setup to make it work. It's also on a par with the Kindle Oasis when it comes to price point and functionality making it a pretty versatile ereader.
If you're interested, I wrote a piece on Ereaders with Dropbox which covers each of the ereaders previously discussed and has a nice comparison table by device size and features available. It also goes into detail on how to setup and sync Dropbox to your device.
Alternatively, you can check out our ultimate Ereader Comparison Table which covers every ereader on the market.
How to get Similar Dropbox Feature on Kindle
Although Kindle does not support Dropbox, Amazon have come to the rescue with an alternative.
Send to Kindle is an app that enables you to send files to your Kindle device. In reality, it is just a proxy email service that allows you to send files to your Kindle's inbox. Best of all this service is free to use.
In fact, if you are interested, I wrote an Essential Guide to using Send to Kindle which gives you everything you need from setting up to send your first file. There is also a quick start pdf guide that you can download for free if you subscribe and pin to your fridge.
Send to Kindle vs Dropbox
While Send to Kindle is a useful tool, it is nowhere near as good or productive as Dropbox on your ereader for a number of reasons: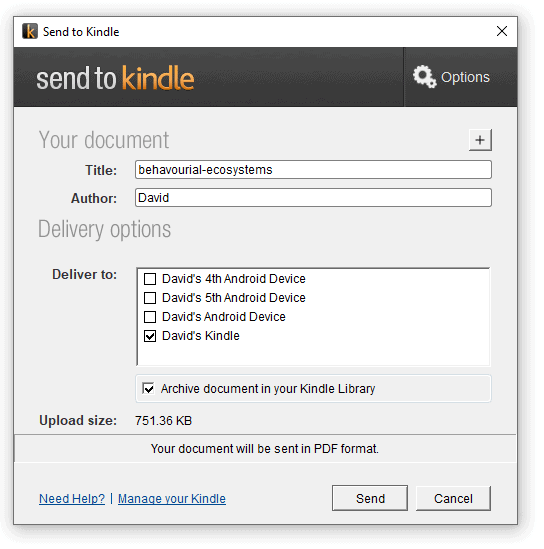 1. Cannot View files Directly:
Unlike Dropbox, you cannot sync and view files directly via the client browser. Instead, you have to use a laptop or mobile that has the Dropbox files and use Send to Kindle from there. It is cumbersome and not a direct alternative to Dropbox.
2. Need a second device to send files:
Send to Kindle is effectively a proxy email service that sends your files to your Kindles inbox. As such, you will need a PC or laptop with access to your Dropbox files to send these to the Kindle device. This can be time consuming having to power-up and log into your account, and practically impossible to do while you are on-the-road (although you can use Send to Kindle on Mobile).
Dropbox to Kindle FAQ:
Can Kindle access Dropbox?
Not directly, as Kindle ereaders have a basic operating system due to the lower processing power of the CPU. As a result, the Kindle is unable to run apps such as Dropbox on it's OS.
Will we see Dropbox on Kindle Paperwhite and Oasis?
I think it is more likely that Amazon will eventually provide a cloud service, similar to Dropbox and OneDrive, for Kindle user to access their files.
To be honest, I'm surprised Amazon have not done this already as they have the networking infrastructure in place, they have just chosen not to do this for some reason.
With Kobo having provided support for Dropbox and Onyx with their own cloud service, it's just a matter of time before we'll see Kindle do the same.
How do I get books from Dropbox to my Kindle?
You can use Send to Kindle which allows you to send files an any format to your Kindle device. Send to Kindle is available on PC and mobile devices. Be sure to retrieve your Kindle's unique email address which you can find in your Accounts page on Amazon.
Can I use Kindlebox on Kindle?
Kindlebox looked like a promising solution to transferring Dropbox files to Kindle, but sadly it appears that the app is no longer being developed.
Can you use Dropbox on Kindle Fire Tablets?
Kindle Fire are the only devices in the Kindle family do support Dropbox, as it runs the Android operating system under-the-hood and therefore supports third-party apps. You can access any file into your Dropbox account just as you would do on a PC.
Summary
Even through you cannot use Dropbox on Kindle, I hope I've given you with a suitable alternative which should provide similar functionality and allow you to view files via the cloud.
I think it's unlikely that we will see a Kindle with native Dropbox, as Amazon are clearly targeting a specific market with a cost effective device.
If anything, it's more likely they we will see Amazon introduce their own cloud service to sync files to your Kindle. But given that there has been no mention of this, it could be some time before we see this.