Ereaders come with a plethora of useful features to help improve your reading experience.
One of the latest is Dark/Night Mode which effectively inverts the monochrome on the display. The background turns black and the icons/text turn white.
There are a few benefits of doing this, here are just a few:
Benefits of using Dark/ Night Mode eReaders
Reduced Exposure to Blue light: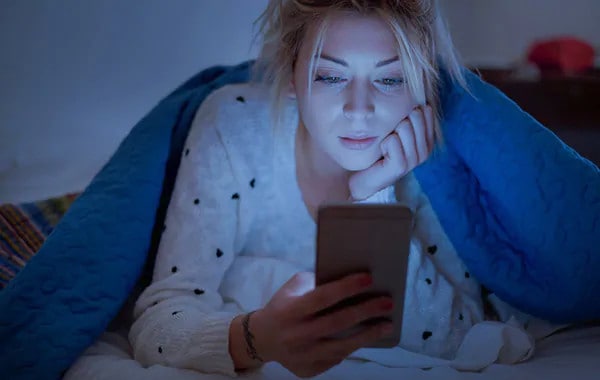 Studies have proven that continued exposure to blue light from electronic devices can disrupt our sleeping patterns.
During the evening, our body naturally produces melatonin a hormone that is used to aid sleep. The problem arises when we expose our eyes to blue light for long periods during the evening.
Too much blue light reduces the amount of melatonin the body produces which could affect the duration of deep sleep or REM that we have each night.
By inverting or setting Night Mode, the screen will display less cold/blue light as there is less white light on the screen.
You can reduce your exposure to blue light further by adding a Warm Light filter. This will block-out any cold/blue light being emitted from your display. If you are interested, then check out Ereaders with Warm Light Feature.
Reduce Tiredness:
Unlike LCD displays, e-ink do not project light to display images and text which can cause tiredness over long durations.
So, while there are huge benefits of owning an ereader over a tablet or monitor, there is little evidence to suggest that using Night Mode on ereaders has any material gain.
It may be more subjective than evidence based, but I find that less white light on the screen is easier on the eye, particularly when reading in the dark.
Read in the Dark: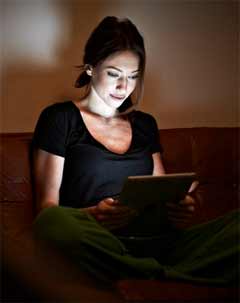 This is not necessarily something I would normally do, nor recommend!
But on the occasion when my partner wants to go to sleep before myself, I have found dark mode particularly useful while reading in the dark.
The reduced amount of light feels less strenuous on the eyes. This may have something to do with less light to process, but the net result is I tend to read for longer durations with Night Mode on.
I will stress that I am not advocating reading in the dark and where possible you should try to read at night with at least one lamp on. We do not want our vision to deteriorate any more than is necessary.
Which ereaders have Dark Mode?
Now that you've read some of the benefits or using Dark Mode, you may be interested in which ereaders have this function?
I've spoken to each manufacturer to ensure we have the latest information on which ereaders support Night Mode, here's our list:
Amazon: Kindle Paperwhite and Kindle Oasis
Amazon were one of the first companies to adopt dark mode across all their Kindle products and is available on both the 6" Paperwhite and 7" Kindle Oasis.
If you are considering buying a second-hand device, it's worth knowing that some of the earlier versions of Kindle do not have this feature. So check the specification of the device before you buy.
Setting Dark Mode on any Kindle device is really quick and easy to do.
How to Enable Night Mode on Amazon Kindle Paperwhite and Kindle Oasis
Tap near the top of the screen to open the main menu.
Select All Settings.
Tap on the Night Mode icon.
Night Mode is now enabled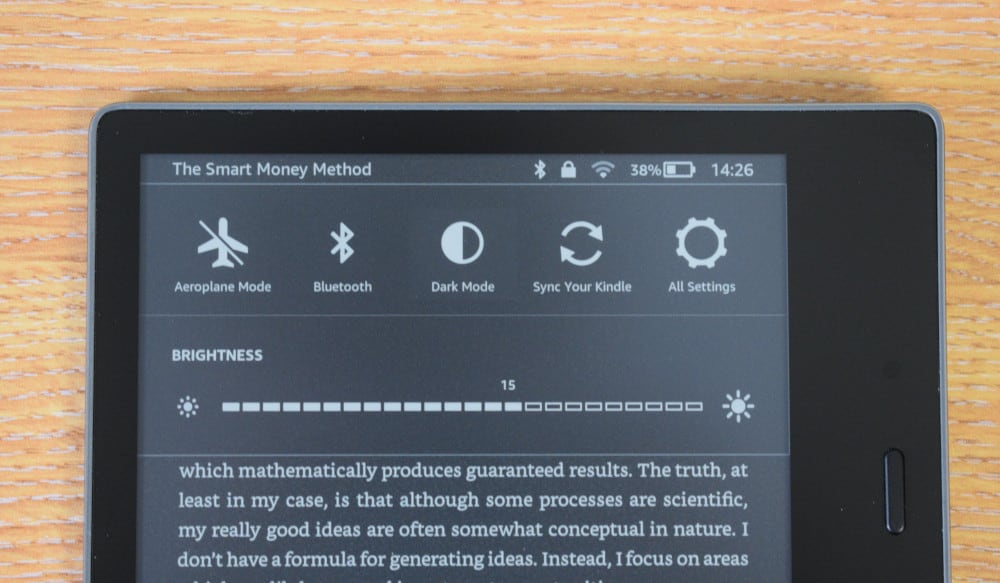 ---
Rakuten: Kobo Forma
What is nice about the Kobo Forma's Night Mode feature is that you can switch between Day/Night mode by using the select button at the top of the display.
Just hold-down for a couple of seconds and the display switches to Night Mode.
It's great for users that prefer a simpler option without having to jump into and get lost in the array of systems settings, which can easily happen at times.
And that's it…
Surprisingly, only two of the major ereader manufacturers have adopted night mode as standard on their ereaders.
But don't despair!
For all you Android-based ereaders there are a few reader apps on Google Play and Apps Store that allow you to enable Dark Mode whist reading.
How to get Dark/Night Mode on BOOX and Boyue Ereaders
Here are a few reader apps you can download that will give you the same experience of dark mode. The difference is the app cannot implement Dark Mode at system level. Meaning it cannot enable dark mode across the broad on all menus, just within the app itself.
Here are two great reader apps with Dark Mode:
1. Moon+ Reader
Is an innovative book reader with a ton of useful features such as text highlight to improve your reading.
Once you open the app, you will notice the Night Theme Icon at the bottom of the sidebar menu.
Simply tap this to switch the app to Night Theme.
Select My Shelf to find your list of ebooks to read.
2. Librera
Is a light-weight free book reading app that is compatible with any ebook format.
To get night mode working, simply download and install the app on your device. Now open the app by tapping the icon.
All ebooks and pdfs on the device should now be displayed in Library.
Select an ebook or pdf to open.
At the top menu you will see a half crescent moon icon ___
Tap this to switch to Night Mode.
You can toggle this to switch between day and night mode.
Once you are happy with the reader you could always purchase Librera Pro, which is ad free (no ad banner at the bottom of the main menu) and helps supports further software development of the app.
Best Ereader with Dark/Night Mode – Our Pick
I'm a huge fan of the Kobo Forma.
It has a nice, sweet spot when it comes to price over functionality. It's one of the cheapest 7.8" ereaders on the market. The build quality is great and also happens to be one of the lightest readers for it's size, overall you can't go wrong.
If size isn't your thing, then the Paperwhite is a good compromise over price and build quality.
Summary
I was surprised by how few ereaders there were on the market with Night Mode, it's not as if there is anything ground-breaking here.
Even some of the premium-end ereaders such as BOOX failed to offer such a basic feature. But I hope by reading the article, you can see that there are ways around this by using apps such as Moon+ which have this option.
If you're looking for a solid all-round ereader with night mode then you can't go wrong with the Kobo Forma. The nice thing about the Kobo is that the dark mode can be quickly changed by holding the ___ button down for a couple of seconds, making it simple to switch to.
If you think I've missed any ereaders out that do in fact have night mode, please leave them in the comments section below and once verified I'll add them to the list.