Microsoft OneDrive makes it incredibly easy to access any document remotely.
However, not all ereaders allow you to do this.
In this feature I'll discuss which ereaders work with OneDrive and provide you a comparison table of the best ones.
Finally, I'll explain how you can STILL transfer files to ereaders without the OneDrive app.
In a Hurry?
Here are the latest ereaders that work with OneDrive
What is OneDrive?
OneDrive is a cloud-based file platform from Microsoft that allows you to store and sync files into the cloud, which in reality is just a bank on large data servers out in some remote location.

Storing your data in the cloud has three key advantages:
Access your file remotely – Which is great if you are constantly travelling for work.
File Security - Using AES 128-bit encryption makes it near impossible for someone to access your files.
Stored multiple times – To ensure you never lose your data.
What files can you store using OneDrive?
OneDrive will accept any file provided your device can interpret and read that format.
Generally, I will store personal documents, photo's, notes and even articles (such as this one) before adding them to the website. It's a great way to have instant access to your data wherever you are.
Which Ereaders work with OneDrive?
For those of you who do not yet have an ereader and want access to OneDrive, you want to make sure that the device has an Android operating system (OS).
Android OS is fairly common. If you do not have an iPhone, it's quite likely you own a phone with the Android OS.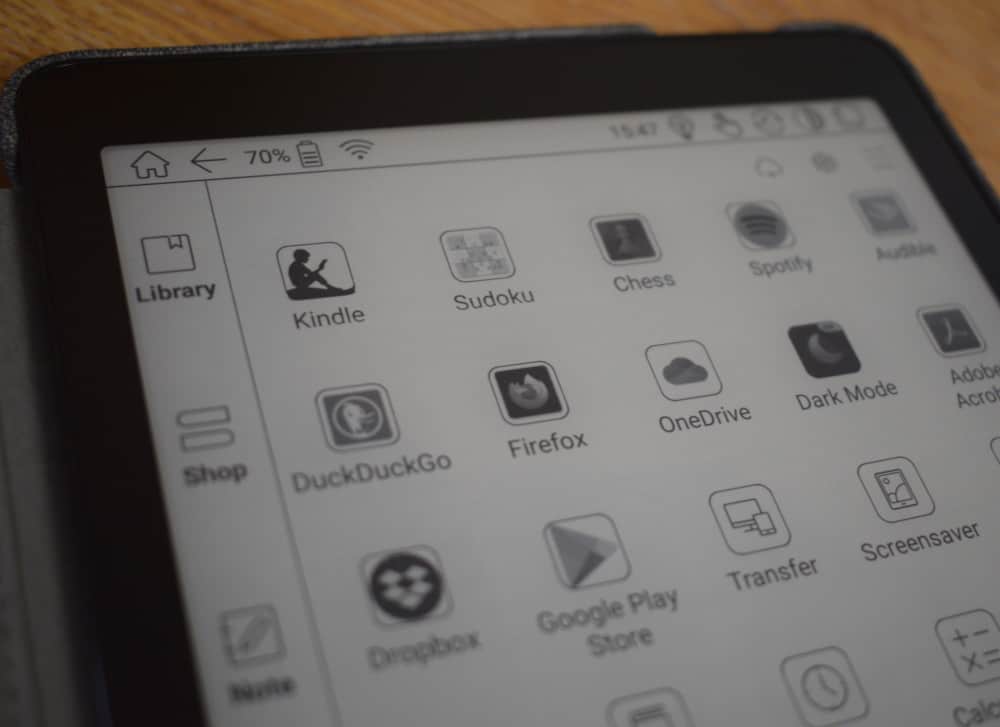 The Android operating system is necessary as it allows you to download and install apps, including OneDrive. One thing I should point out is that Android ereaders tend to be twice as powerfull in processing speeds as Kindle devices, therefore they come with a higher price tag. But the upshot is you can do so much more with an Android ereader!
When it comes to Android ereaders you have two manufacturers to choose from, each company has a wide range of ereaders in different sizes.
See further down for an ereader comparison on both Onyx BOOX and Boyue in their range.
1. Onyx BOOX
When it comes to ereader luxury, look no further than BOOX. I personally own the Nova 3 and it is my "go to" ereader for anything related to reading pdf documents, due to its speed and unique custom user interface.
Currently BOOX are the only manufacturer that installs the latest Android 10 OS, so if you want the latest operating system BOOX has you covered. For a full detailed review of the Nova 3 just follow the link.
2. Boyue
Is a relative newcomer into this space (founded in 2016) but it has already been making waves in the space.
Boyue appears to be targeting a market that wants a more flexible ereader with Android apps, but at a cheaper price to it's rival. As such, Boyue products tend to have lower spec's than BOOX. Boyue ereaders will come out-of-the-box with Android 6 rather than the latest A10, due to lower processing capabilities from the CPU.
They do tend to be more sluggish than the BOOX devices, but if speed is not a concern, it may be an attractive alternative.
Can you use OneDrive on Kindle?
OneDrive is not available on Kindle ereader devices to its basic operating system, which does not allow third-party apps to be installed. The Kindle was design purely as a device to read ebooks and allow Amazon to sell those books through its store. Aside from this it has limited capability.
However, you can install OneDrive on a Kindle Fire tablet through the Amazon Apps Store.
How to install and setup OneDrive on Kindle Fire devices:
To Install and setup OneDrive onto your Kindle Fire, just use the following steps:
Open the Amazon App Store and search for OneDrive.
Select the OneDrive icon and tap on the Install button.
Once installed, tap on OneDrive to open.
4. Sign into your account or register if you do not yet have one.
5. Any files/folders already in your account will now sync to the device.
OneDrive Plans:
If you have yet to open a OneDrive account, you can do so using the link provided.
Microsoft have different plans to suit your needs. The cheapest OneDrive Basic, is free and comes with max 5GB storage which is enough for anyone starting out.
But if you plan to use it for storing photos and video then I would recommend 365 Personal which is $59.99/year with 1TB or 1000GB (200 times the storage of the Basic plan) and includes Microsoft Office which is great for running your business or work.
I personally have this package and think it's great value for money as has plenty of storage for my needs.
How to send OneDrive files to Kindle
Now, I know I said that you cannot access OneDrive using your Kindle device and this is true.
But you CAN send OneDrive files to your Kindle ereader and I'll briefly explain how you can quickly set this up. Before we start, you will need a OneDrive account already setup with a couple of files in the root directory.
1. The first thing you will need is to retrieve your Kindle devices unique email address. You can find this by going to your Amazon Account and List > Manage your Content and Devices.
2. From here, select the Devices tab and click on the Kindle icon. You should now see your Kindles Email Address. Copy this and either save this in a word document for safe keeping.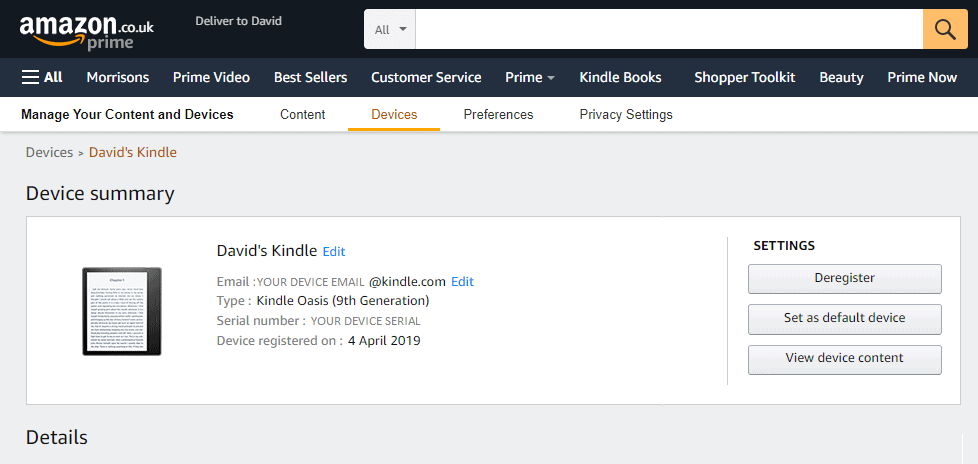 3. Now on your PC or laptop, go to your OneDrive directory and select a file. Right-click on that file and you should see a Shared option with the OneDrive logo next to it. Click on this.
4. Next, Paste your Kindle Email Address into the To: section and click Send.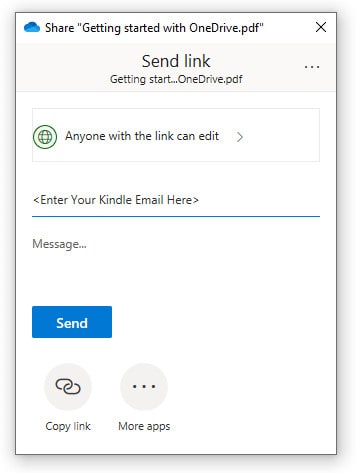 5. The file should now be sent to your Kindle device to read.
I appreciate this is not the same as having complete access to all of your OneDrive files via Kindle, but it's a nice, cheap compromise.
Alternatively, you can achieve the same result with Send to Kindle. I have a piece on how to setup and use Send to Kindle if you are interested. Personally, if you are like myself and already using OneDrive, the method described above is just as simple so I would use this.
How to use OneDrive with reMarkable 2
Ereaders with OneDrive FAQ
Is OneDrive available on Kindle ereaders?
Not at the moment, as it appears that Amazon is more focused at providing a cost effective ereader that serves Amazon customers through its Kindle store.
Will we ever see OneDrive on Kindle?
Unless Amazon attempts to target the more premium ereader market and release a Kindle with the Amazon OS, which is a custom Linux operating system, it seems unlikely.
Attempting to serve the more professional market with a larger sized ereader with an Android or app-based operating system will not improve their bottom line. As much as I would like to see Amazon release a more premium end ereader to compete against Onyx, the chances are very slim. However, never say never, stranger things have happened!
Which ereaders have OneDrive app?
Only Onyx BOOX and Boyue Likebook ereaders allow you to install the OneDrive app. The integration of the Android operating system provides these ereaders the flexibility to install third-party apps including OneDrive.
Other popular ereaders such as Kobo, Kindle and reMarkable have a basic non-Android operating system, and as such are unable to support third party apps. However, you can transfer files to these devices using email services which I've mentioned previously.
Summary
While OneDrive opens up huge possibilities to access documents remotely, only two companies have the ability to do this.
Unfortunately for Amazon customers, Kindle is not one of them and this is unlikely to change for the foreseeable future.
However, you can send any file you want in your OneDrive account using your Kindle email and we've gone into detail on how to do this.
For those that are still undecided on which ereader to buy that allows you to use OneDrive, my top pick has to be the Nova 3. It is slightly pricier, the added features gives you greater flexibility and personally I think it's worth every cent.